Nifty TIPS FOR RVing WITH YOUR DOG | A Complete beginners Guide
Travelling is itself a complete package It gives you a bag full of memories to cherish your whole life, every time I travel I have a different experience.
Most importantly travelling helps me to deal with the situation at the moment, many times we plan something for a particular situation but things don't happen in that way.So travelling teaches how to tackle the situation in that particular moment and gives a brand new experience.
We recently went on RVing around Victoria on the camper van. This was our 1st time as a family being on RV camping and with a pet!
You must be Kidding me right? But we did it and we did it well I must say!
Well, To begin with we did not know many things and we did a Lot of Research on Internet.
So, I thought of compiling what we did right /wrong so that I can help any 1st time Campers around with pets.
Lets start 15+ Nifty Tips for RVing with your pet!
A Quick Guide
Camper van Or Motor home or Caravan- What's your Pick?
RV (Recreational Vehicle)
RV is a broad phrase that is often used in North America to refer to motorised vehicles used for camping.
RV is a generic term that encompasses both motorhomes and campervans.
Campervan
Typically, the phrase "campervan" refers to a two- to three-berth vehicle.
While many campervans are equipped with toilets and kitchens, they are often smaller than the normal motorhome.
Motorhome
Motorhomes are bigger two- to six-berth vehicles with a long wheelbase.
Motorhomes are frequently equipped with kitchen and toilet facilities, as well as other amenities found in a house (e.g. television, DVD player, air conditioning).
Caravan
A caravan (alternatively called a trailer or mobile home) is a kind of unpowered vehicle that is towed by a powered vehicle.
1. Hiring or Purchasing a RV
Hiring a Campervan
If you're just in Australia, New Zealand, Canada, the United States of America, or anywhere else for that matter, it definitely pays to look around for the finest Camper van Hire offers.
We Hired a Mercedes Benz camper van that is pet Friendly and paid the amount in advance. before Hiring camper van make sure they are pet friendly
Advantages of Hiring a Campervan
You are not responsible for maintenance if the vehicle develops problems (all hire companies offer a roadside assistance program).
You don't have to worry about selling the camper at the end of your road trip — simply hand the keys to to the camper van Hire company and flee…
You are not required to register the vehicle or obtain roadworthy credentials – simply take the keys and hit the road.
Purchasing a Campervan
It's straightforward – you purchase a campervan and you own it; when you're through, you can resell it and recoup part of your investment.
If you hire a Campervan, you've spent your money. From $6,000 in Australia and New Zealand, you may get a buy reasonably priced older model camper-van (like Toyota Hiace, Mitsubishi Express van).
Of course, it depends on when you go — during the summer, demand for campervans is high, and sale prices are sometimes rather exaggerated.
The best time to BUY a campervan is between March and May, when other travellers are eager to return home and are keen to sell their vehicle.
Renting Motor Home
If you're considering renting Motor Home, there are a few things you'll need to keep in mind to ensure a safe and enjoyable trip.
Motor homes are available in a variety of sizes, so it is essential to select one that meets your needs. Consider the number of people travelling with you and the amount of space needed for luggage and other items.
Consider the costs: Renting a motor home can be costly, so it is essential to comprehend the associated fees. Be sure to include the cost of fuel, campsites or other accommodations, as well as any other potential expenses.
Before you rent a motor home, ensure you are comfortable with the driving requirements. Driving a motor home can be quite different from driving a regular car, so make sure you are familiar with the requirements. Verify that you possess the required licence and insurance for driving a motor home in your area.
How to keep RV cool for pets- Tips to Keep Your Pets Cool ,Comfortable and Safe
How to choose the best RV for traveling with pets
Size does matter.
You may need to adjust the size of your camper depending on the size of your pet. Small dogs don't mind because they fit in everywhere and can accompany you on walks. However, cats and larger dogs will require more space.
If you're bringing your cat, you'll probably need to leash train her anyway, as we have. Otherwise, she'll get very little exercise.
Of course, all campers are constrained by space. However, you should keep in mind that some state or national parks may have size restrictions, and driving a larger vehicle is also more difficult.
Temperature control is essential!
This is critical if you intend to RV with your pets. But it's even more important if you want to be able to leave your dog in the RV from time to time.
RVs heat up at the same rate as cars. To keep them cool, you must install an air conditioning system.
Do not use carpet
Even if your carpet is covered in dog or cat hair, cleaning it at home is simple. This should not be a problem with a good vacuum cleaner.
But when you're on the road, the last thing you want to do is clean! Of course, you should clean your RV on occasion, but don't make your life too difficult.
Choose an easy-to-clean tile floor. When you're on the road, all you need to do is mop it every now and then.
Window dimensions are Important
This is entirely dependent on the type of pet you have, particularly if it is a dog.
Some dogs and cats enjoy watching what's going on outside and will relax on the window sill.
If your dog is a chaser or barker, you should definitely consider the window sizes in the RV and probably avoid floor-to-ceiling windows.
Because if your dog sees a squirrel outside and decides to jump right at or through the window, it can be extremely dangerous!
Simple access
This is especially important for larger dogs, but it can also be an issue for older dogs or cats in general. You should always ensure that your pet has easy access to the RV.
Because they won't be able to walk or jump into the RV on their own, you'll have to carry them every time! It's best to have a wide access so you can walk alongside your dog to assist him, but not too many steps.
Where to Buy Rvs
Leading online marketplace for buying and selling recreational vehicles is RVT.com (RVs). Since its founding in 1999, the website has grown to be one of the most dependable and well-liked destinations for RV enthusiasts and dealerships.
A variety of RVs, including motorhomes, travel trailers, fifth wheels, toy hauliers, and more, are available for purchase on RVT.com. The website offers both new and used recreational vehicles from renowned manufacturers, including Forest River, Winnebago, Thor, and Coachmen.
One of RVT.com's distinctive characteristics is its user-friendly search engine, which enables customers to quickly locate the RV that best suits their individual requirements and tastes. RVs are searchable by kind, brand, price range, location, and other criteria. Also, they have the option to bookmark their searches and sign up for alerts when new RVs matching their criteria are posted online.
In addition to its services for buying and selling, RVT.com also offers a variety of resources and information for RV aficionados. The website offers articles, videos, and other information on subjects like campground reviews, RV maintenance, and travel advice.
In general, RVT.com is a thorough and user-friendly platform for buying and selling RVs, making it a fantastic resource for anyone interested in learning more about RVing.
Buy Your RV here
The broad reach and powerful marketing tools of RVT.com can also be used to the advantage of sellers. .
Featured listings, banner ads, and email marketing campaigns are just a few of the listing packages available to sellers.
Where to Rent Rvs
Renting RV
RVShare: RVs for All Your Travel Needs
Pet Friendly RVs : Take your furry friends along on your next big adventure
Deliverable RVs : Enjoy the added convenience of having your RV delivered anywhere
Best RVs for taking pets on vacation

So here is a list of my top RVs for taking dogs along.
Motorhomes : The Dog Liner T370
Given that it was created with dog travel in mind, this RV is by far my favourite for doing so.
It is really secure and versatile for you to travel because it contains a separate compartment for your dog.
The compartment is essentially a box that has been integrated into the RV's back.
You can leave your dog there while travelling or when he needs a break because he is getting a little overexcited.
Nonetheless, I believe it's a pretty good feature to have and you can always let him sleep wherever you wish in lieu of that.
Class A motorhome from A.C.E.
The A.C.E. class A motorhome has certain particular dog-friendly features, which is really wonderful even though it's not exactly my favourite.
It resembles a motorhome in the class A and class C ranges. This one is accessible in the US and Canada, so I've included it to the list as well.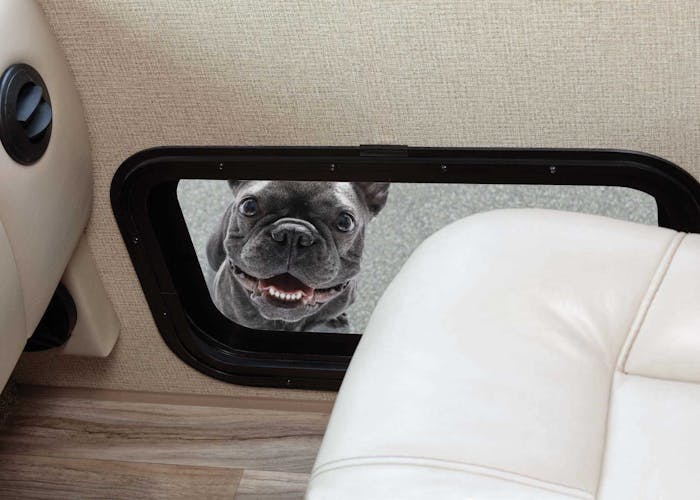 Class B motorhomes /Camper vans
The best mobile homes for hikers are definitely camper vans. They require you to downsize your lifestyle much more than motorhomes do, which I really like.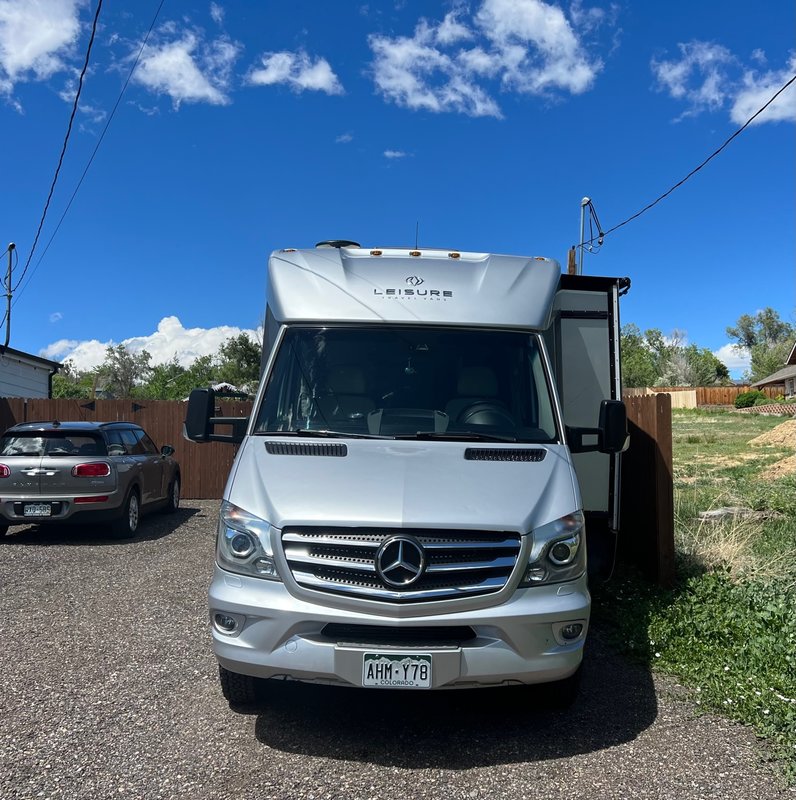 This is a possibility only if you travel with a dog or cat and enjoy having them close by all the time. Nevertheless, I have no idea how you would travel in a camper van with smaller animals.
You can always add an AC/fan that you plug in using energy from a solar panel or a generator, regardless of the type of camper van you choose for yourself.
Caravans/Trailers
Airstream -Classic 33FB: The Airstream trailers are my favourite. They come in a huge variety of styles and lengths and have such a stylish, yet contemporary look.
Pop-up Camper
A pop-up camper is a hybrid of a trailer and a tent. This has the major benefit of requiring little room, being relatively light, and typically being able to be towed by a regular car.
That won't always be doable if you decide to use a pop-up camper because it's more like a tent in terms of leaving your dog behind.
RK2516G Rockwood
This pop-up camper is incredibly well-equipped; it even includes a small bathroom.
Truck Camper
A truck camper's interesting feature is that you can theoretically always take the camper off and continue using your truck alone.
This therefore allows you a great deal of flexibility, especially if you also intend to visit cities, which may be difficult with a large campervan.
It is considerably smaller than all the other alternatives, even with the camper on the truck.
LANCE 650 TRUCK CAMPER is the best Truck Camper for pets. Everything you need…and then some!
2. Packing for the RV Camping with your Doggo
You want to make certain that your dog has everything he or she needs in order to enjoy a wonderful trip with you.
There are some items that your dog should not travel without, just as there are certain items that a person should not travel without.
Packing essentials for your dog include anything from his favourite food and treats to documentation of immunizations and rabies shots.
Here are a few of the most important items to bring:
LeashsCollarsToyssBedding
A food bowl that won't spill
Cleaning materials in case of an accident
Fav Treats & food
Poop bag
Medication
When it comes to a more complete list, petpawshub has created a fantastic pet packing list that will walk you through everything your dog may require while on your RV excursions.
3. Plan your Camping route
Best ways to plan your Camping Route…
Decide where you want to go. Knowing where you want to go camping involves knowing what kind of camping you want to do. Our 1st camping route was VIA the Great Ocean Road, AngelSea, PortFairy,Portland and Blue lake( South Australia) and back.
Reserve your campsite parks that are pet Friendly & Research about your each destination. If your destination is far off , you have to take several Night Breaks.
Plan your & your Dog's meals every day & night
Prepare for all weather conditions & Test all your Gears.
Make a packing list for you, your family and your Pooch
If you are RVing with a Toddler and a pet take Extra care to pack all the necessary stuff.
4. Look for pet friendly Camper parks
Nearly every campsite in the country has a pet policy, and they are not to be taken lightly. Some do allow pet and some don't.
Indeed, some locations have rather tight laws regarding your four-legged companions.
Numerous national parks prohibit pets entirely, while others require pets to be kept on a leash when outdoors.
Whatever you do, familiarise yourself with the destination's pet rules.
How to keep dog from barking in RV- Tips For RVing With Dogs That Never Fail
To keep things easy and stress-free, contact the campsite ahead of time to confirm that dogs are permitted before embarking on your vacation.
Fortunately, Australia has a number of dog-friendly campsites where you and your Pooch can enjoy paradise together.
5. Get the Local vet contact Details
Though your Pooch may be current on all vaccinations and appear to be in ideal condition before you depart on your trip, accidents may happen, and you want to be prepared in case they do.
While cellphones are a fantastic breakthrough in technology and will assist you in locating a veterinarian on the go, it's a good idea to conduct some preliminary research before you go.
You'll want to arrange your RV itinerary so that you're not too far from a town where you can immediately access a veterinarian if required.
You could even want to ask your hometown veterinarian for recommendations for reputable doctors in the locations to which you're travelling.
Dont miss all the pet essentials. I'm a strong believer in the value of making lists. Instead of doing them to make me feel more productive (or because I like "checking off" the stuff I already have), I do them to help me remember all I need to do.
Keeping a list of Pet Essentials is a necessary for each pet owner.
Don't forget to take their Fav Treats, Toys and food.
Sure, you're aware that your pet need food and water (as well as treats, if they're fortunate). However, what about…
What's the deal with their leash?
What about their Poop collection bags?
What are their plaything/toys?
Treats and Your Pooch's fav food
What's the name of their tooth brush?
What's in their crate/bed?everything pet stuff put it in the list.
7. Make sure You take your Pooch for daily Routine
Dogs require physical activity. To force them to sit in a car for hours on end without the ability to move about is essentially to subject them to torture.
If your RV is large enough for them to run about and play fetch, that's fantastic!
If not, however, ensure that you stop at dog-friendly parks along the journey for your dog to rest, stretch, and burn off some energy.
Additionally, this may be an excellent opportunity for your dog to meet and bond with other travelling puppies.
8. Keep a travel Friendly water Bowl
Pet travel bowls make it simpler to feed and water your pet when travelling than it would be if you had to bring along the dishes that you use at home.
No matter where you are, make sure they are hydrated and happy.
Foldable Dog Water Bottle
Designed with a realistic 12-15oz capacity, the portable dog water dish is ideal for outside activities such as strolling, trekking, and travelling. It comes with an anti-lost rope, so you can quickly tuck it inside your backpack or hold it in your hand with the connected strap for simple carrying.
We earn a commission if you make a purchase, at no additional cost to you.
01/06/2023 05:26 pm GMT
9. Harness your Pooch
While you may be tempted to let your canine companion to sit on your lap while driving, please remember that doing so is not in your dog's or your own best interests when it comes to road safety.
Put your dog in a seat belt harness or a dog box while you're driving to keep both you and your dog safe from harm.
If you want to use a box or carrier, be certain that it is securely fastened so that it does not move about on the road.
No matter the safe method you select to secure your dog, it must be in the same vehicle as you at all times.
Never leave him alone in a camper that you're towing with a trailer hitch.
The aforementioned safety measures can keep your beloved furry buddy from being harmed while driving, as well as from becoming a distraction to you while driving.
10. Respecting your Camping Park Neighbors
While vacationing in an RV park, it is always vital to be considerate to your neighbours.
The ability to always be a nice neighbour is one of the most crucial aspects of travelling with your dog in your RV travels.
This assures that you will continue to be able to bring Fido along with you on your travels.
When you're camping with your dog, it only takes a few bad interactions with the dog owner to spoil the experience for everyone else.
To make sure it isn't you, try to restrict your dog's barking to a bare minimum so that it doesn't bother your neighbours too much.
Also, be sure to follow the leash restrictions of the campsite and never leave your dog's droppings on the ground – always clean up after your canine companion.
It's important to remember that not everyone is an animal lover, and not everyone will be thrilled to have your dog roaming about on their property.
Simple pet etiquette standards can guarantee that your pet, your neighbours, and you can all coexist peacefully:
Always keep your pet on a leash while out and about.
Take action to put an end to the continual barking, particularly after hours.
Always ensure that your pet is cleaned up after.
11. Get your pet's favourite bed/Crate( travel friendly)
Our Rover do not stay in crates , infact , we never used one for him.
However, if your dog is fond of crates then dont miss to take a Travel bed with your RV.
Pet travel beds/crates make it simpler to make your dog relax and rest when travelling than it would be if you had to bring along the Just that you use at home.
No matter where you are, make sure they are sleeping well hydrated and happy.
Dog Sleeping Bag Waterproof
The dog sleeping bag is constructed of polyester exterior fabric with a soft fleece inner layer that is waterproof, warm, soft, and comfy for your pet
A zipper on the tail and one side of the bag, as well as a drawstring design on the head, ensures that your dog is safe.
It is portable and washable, and it comes with a travel-friendly carry case, which allows you to roll it up when not in use, making it simple to transport and store. It is simple to clean.
We earn a commission if you make a purchase, at no additional cost to you.
01/05/2023 09:25 pm GMT
12. Keep your pets safe!
RV Monitoring on the Go with a Smartphone
As a consequence, we searched extensively for a surveillance gadget capable of protecting our children while we were out and about, ultimately settling on the Airstream.
With a remotely viewable camera and sensors to assess temperature, humidity, and air quality, the Airstream was the ideal solution for our needs.
When the temperature, humidity, or air quality exceeds a specific threshold, your iPhones notify you.
You'd get an alert if the RV grew too hot, and You'd be able to swiftly return home and rectify the situation.
13. Keep The Aircon/Heater on when you are away
If you're going to be away from home for an extended period of time, make sure your dog has access to a cooling system in the event of a power outage or an A/C problem.
Be wary of modern ventilation fans with built-in sensors that automatically close vents if it rains, and always keep the air vents open with the fans operating.
Before leaving your dog alone in the RV, turn off any sensors that may be there. Before you depart, be sure to provide enough of water for the animals.
Most Importantly, Make sure not to leave your Pooch alone for Longer time in the RV.
Dog Chew Toy for Small Dogs & Puppies
SAFE & HARMLESS- Pets are human's closest companions. This dog chew toys pack is constructed of TPR substance, which is non-toxic and harmless.
Puppies chew for oral health and stress relief. If your canine dogs are teething and chewing on everything, the iBeazhu chew toys pack may give comfortable teeth cleaning and chewing gum massage instead of harming furniture, shoes, or garments.
We earn a commission if you make a purchase, at no additional cost to you.
Dog Travel Bag
Designed for the best and most convenient travel outdoor experience for you and your pet! Airline Compliant and fit under seat. Perfect for a weekend getaway with your best friend.
We earn a commission if you make a purchase, at no additional cost to you.
01/05/2023 07:45 pm GMT
14. Get Your Doggo Updated ID
If you're planning on taking your dog on a trip, be sure they're microchipped or have a suitable ID tag.
You may want to provide your phone number in the event that someone discovers your pet. "Have they been chipped at all?" is a common question.
15. Keep your pet's information with you at all times.
The top three documents I keep on hand at all times when travelling with my pets are:
Vaccination records, photographs and proof of ownership.
A lot of campgrounds ask to see recent vaccination records (to ensure your pet's health is up to par).
Such as rabies shots! If your pet has any allergies or medical ailments be sure to bring paperwork for that, too. And don't forget the first aid kit!
A journey of a thousand miles begins with a single step" –
Lao Tzu
RVing with pets -FAQs
RVing with your dog can be enjoyable and rewarding, but it can also provide a special set of difficulties. Here are a few often asked queries regarding taking your dog along in an RV:
Is it OK to keep my dog or cat alone in an RV at a campground?
The succinct answer? You certainly can
However, you should usually avoid leaving them unattended for an extended period of time.
Dogs and cats both need interaction!
Not to add, dogs require toilet breaks and enough outside time.
They may develop severe separation anxiety if left alone for an extended period of time.
It's quite OK to take an occasional day excursion into the mountains (or city); just be sure to return home with plenty of love and care for your fluffy buddy!
Even on colder bright days, the inside of your RV may reach temperatures of more than 100°F! Ensure that you leave your air conditioning on.
Additionally, we suggest purchasing a temperature monitoring device to check the temperature. If the power goes out or the temperature rises over a certain level (which you specify), it will warn you so you can return to the RV immediately and save your pet's life.
What should I do if my pet becomes ill while in the RV camper van/Caravan.
While it is impossible to completely avoid motion sickness the first time it occurs, there are several warning signals to watch out for in order to avoid it in the future. These include the following:
Drooling in excess is a medical condition.
Constant moaning and groaning
Yawning on a regular basis
a general feeling of unease
While some people are enthusiastic about using essential oils to relax their dogs, they may be harmful to their health if they are not used properly.
In certain situations, oils may seep through your pet's skin and into his brain, causing many skin abrasions and, in severe cases, brain damage.
If you're thinking about utilising essential oils, make sure you do your homework and consult with your veterinarian first.
Stopping often is recommended. Allow your dogs a few minutes to breathe some fresh air, eat and drink their food, and go to the potty if necessary.
Peppermints are really effective. Make it possible for your dog to consume a peppermint treat to help him relax.
Peppermint has been reported to be an effective nerve relaxant by many veterinarians; nevertheless, as with any medication, consult your veterinarian before administering peppermint to your animal.
In your RV, open the windows as much as possible.
Those intimidating signs that say "Service Station stop in 150 miles" make me want to weep.
I can only fathom what Rover must be going through! If you are unable to pull over for a few minutes to allow your dogs to receive some fresh air, open a window in your RV for them.
Please remember to stop at gas stations to allow your dogs to use the restroom! If all else fails, locate a safe area to pull over for a few minutes and rest your weary eyes.
What resources are available to help me locate dog-friendly RV parks near me?
Pet Friendly camper parks may be found all over the world.
If you are renting an RV, and most rental businesses have their own applications that can help you find pet-friendly campgrounds wherever you are travelling.
Alternatively, Google Maps can assist you in locating one if necessary.
Also, if you phone any camper sites and they don't accept dogs, they may give you advise or point you in the direction of another campground that does allow pets in the vicinity.
Cats are mostly permitted to accompany their owners to a campsite where dogs are permitted to accompany them.
However, it's always a good idea to check with the campground's management before making any assumptions!
Just because these campsites are dog friendly does not always imply that they are also 100% pet friendly, and vice versa.
One of the Camper parks we stayed on said YES to dogs But NO to cats.
Cats are not welcome in many camper vans because they are primarily allergen-causing dander spreaders and because they tend to stray off too often.
Can I travel with my dog in an RV?

Sure, you can travel with your dog in an RV, but you should first confirm if pets are permitted with the RV rental business or campsite.
Do I need to get my dog ready for an RV trip?

Definitely, it's crucial to train your dog for RV travel by taking short journeys and introducing them to the RV gradually before a big trip. If you intend to spend time outside the RV, you might also need to get them used to wearing a leash.
Are there any particular things to keep in mind while taking a dog on an RV trip?

Undoubtedly, there are a few unique factors to take into account when taking a dog on an RV trip. You must ensure that your dog has access to food and water as well as enough room to walk around comfortably. Moreover, you might need to stop more frequently so that your dog can get some fresh air and use the restroom.
For an RV journey, what should I pack for my dog?

Your dog will require food, water, and any necessary medications, so make sure you pack enough for everyone. To make them feel at home, you might also wish to bring along one of their favourite toys and a cosy bed or blanket.
Can I lock my dog inside the RV by himself?

It's not advised to keep your dog in the RV alone for long stretches of time since they could become anxious or naughty. The best time to leave your dog alone is for brief intervals, and you should make sure that they have access to food, water, and a cosy area to rest.
Are there any RV parks that cater particularly to dogs?

Absolutely, there are lots of RV parks that offer amenities like dog parks, dog washing stations, and pet-friendly activities designed for dogs. To choose an RV park that is a suitable fit for you and your animal friend, do your research before your vacation.
You may travel in safety and enjoy yourself in an RV with your dog if you take the time to prepare him and make advance plans.
About the Author: Div Acharya
Div is an entrepreneur, influencer, blogger, and marketer, As a travel blogger, Div had the opportunity to visit some of the world's most incredible locations.
From the bustling streets of Sydney, and the fashionable streets of Paris, to the pristine beaches of the Sunshine Coast. I've had the opportunity to immerse myself in different cultures, meet fascinating people, and try new things.
One of the things I love most about being a travel author is being able to share my experiences with others. Travel has taught me so much about the world and myself, and I feel grateful to be able to share those lessons with others through my work.