Sydney Travel Guide
Welcome to our ultimate Sydney Travel Guide – your go-to source for exploring Australia's largest and most iconic city! Sydney Trip!!
Sydney Harbour is absolutely breathtaking with its iconic landmarks and picturesque views. The beaches are pristine and the neighborhoods are bursting with energy.
And let's not forget about the incredible culinary scene – there's truly something for every taste bud in this vibrant metropolis!
Are you ready to explore the amazing "Harbour City"? Look no further because I've got you covered with all the insider tips, must-see attractions, hidden gems, and local favorites that will make your visit unforgettable!
Let's get started! Get ready to embark on an unforgettable adventure as we take you on a journey through the vibrant and sun-soaked streets of Sydney. Don't forget to pack your bags!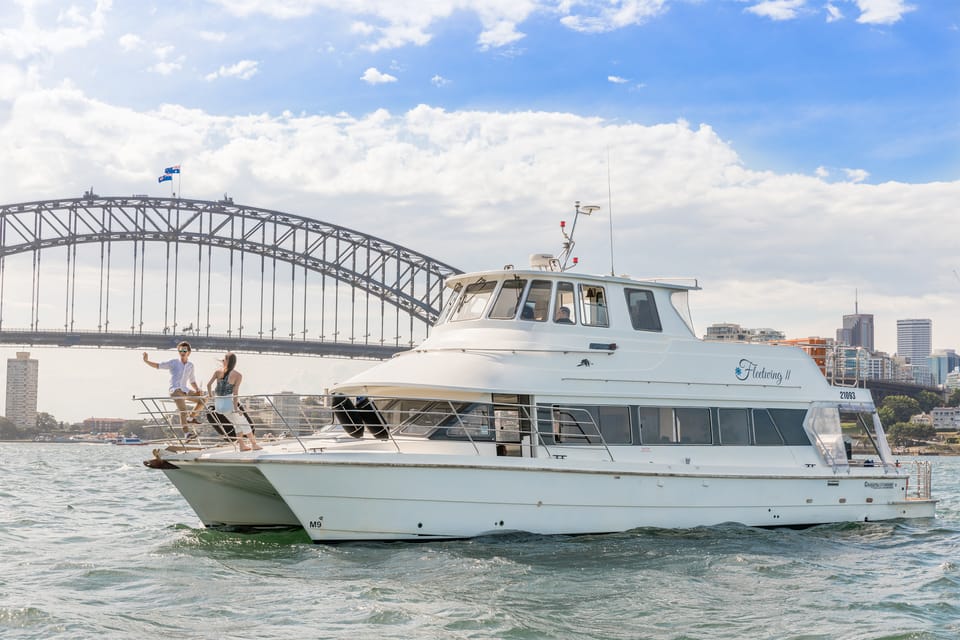 Those who want a closer look at these landmarks can either walk across the bridge or take a ferry ride around the port.
A dynamic blend of culture, history, and natural beauty makes Sydney one of Australia's most visited cities.
A travel book to Sydney is an excellent resource for learning about the best sights, restaurants, hotels, and things to do in the city.
The Sydney Opera House is a must-see for any first-time visitor and one of the city's top attractions.
Another well-known sight, the Sydney Harbour Bridge, displays breathtaking panoramas of the bay and the city below.
Bondi Beach and Manly Beach are just two of the many beautiful beaches in the city where people go surfing, swimming, and laying out in the sun.
About 30 hectares of gardens and pathways await you at the Royal Botanic Garden, another must-see.
Sydney's eating scene is well-known for its variety and quality.
There is a wide variety of dining options, from upscale eateries to hip coffee shops and casual street vendors.
Meat pies, fish & chips, and pavlova are just a few examples of the regional and international dishes that tourists can enjoy.
There is a wide variety of places to stay in Sydney, from five-star hotels to cheap hostels, and many of them are either in the heart of the city or within walking distance of the beach.
Accommodations can be found at a variety of price points, so guests have a lot of leeway in finding something that works for their needs.
In a travel guide to Sydney, there is a plethora of information about the best sights, restaurants, hotels, and things to do.
Because of the wide variety of attractions available, it is a wonderful vacation spot for people of all ages and interests.
⏰Best time to Visit Sydney
Sydney is a fantastic vacation spot at any time of the year, and the best time to go depends on your needs. Some things to keep in mind when you organize your vacation to Sydney are as follows.
The average high temperature in Sydney is 18 °C (64 °F) and the average low temperature is 14 °C (57 °F). December through February are the hottest months, while June through August is the coolest.
Sydney Festival in January, Vivid Sydney in May/June, and the Royal Easter Show in April are just a few examples of the many events and festivals held in Sydney throughout the year. You should schedule your trip so that you can catch the event of your choice.
It's best to avoid visiting Sydney between December and February, or during school break when the city's population swells to accommodate the influx of visitors. Visit in the off-season if you want to avoid the crowds.
The best time to visit for outdoor activities such as hiking, beachgoing, and sightseeing is during the warmer months of September through April. However, if you want to avoid the heat and congestion, May through August is a better time to go.
The months of March through May, and September through November, are considered by many to be the ideal time to visit Sydney.
The weather is pleasant, prices are lower, and crowds are smaller during these months. But, this dynamic city is always bustling with activity, so it doesn't matter when you visit.
📍Where to Stay in Sydney City
There is a wide variety of areas and hotels to select from in Sydney due to the city's size and diversity.
If you're looking for a place to stay in Sydney, here are some suggestions of where tourists tend to congregate.
The Rocks is a historic area in the middle of Sydney that has both colonial architecture and modern conveniences.
The Sydney Opera House and the Harbour Bridge are both within easy walking distance. Select & Book your Accommodation @The Rocks here with Booking.com
Darlinghurst is one of Sydney's hippest neighborhoods, famous for its eclectic mix of restaurants, bars, and boutiques.
Also, it's easy to walk to the Royal Botanic Garden and the Art Museum of New South Wales from here. Select & Book your Accommodation @Darlinghurst here with Booking.com
The restaurants and art galleries in the trendy area of Surry Hills draw in a diverse crowd. The Central Business District and other major sights are easily accessible by foot. Select & Book your Accommodation @Surry Hills here with Booking.com
Bondi Beach is a famous beach in Australia, and the surrounding area features a wide variety of hotels and hostels to suit any traveler's budget.
Although it's not far from the heart of town, it has a completely different atmosphere. Select & Book your Accommodation @Bondi Baech here with Booking.com
Paddington is a lovely neighborhood with Victorian terrace homes, stylish shops, and streets lined with trees. It has a residential atmosphere while still being close to the heart of the city. Select & Book your Accommodation @Paddington here with Booking.com
In Sydney, there are a wide variety of places to stay, from five-star hotels to cheap dorms, so you can find something that works for your budget and your tastes.
When people are traveling a lot, booking ahead can help you get the best selection and price.
📍Make a Reservation for Your Accommodation 👇🏻
Booking.com is the best place to book your accommodations since they offer the largest inventory and the greatest discounts. Booking.com offers genius discounts.
 👉🏻Booking.com is the best place to go because they constantly provide the most affordable rates for Hotels, apartments and budget hotels. 
Also Read: Your Simple & handy Guide on how to use Booking.com
Getting around Sydney:
Getting around Sydney is easy because of the city's various public transit options. Some of the most well-liked modes of transportation in Sydney are as follows:
Buses, trains, and ferries are all part of Sydney's large public transportation system. Those who frequently use Sydney's public transportation can save money by purchasing an Opal card, a smart card that can be used to pay for all public transport services.
There is an abundance of taxis and rideshare services in Sydney, Australia. You can hail one down on the street or schedule one using your app of choice.
Several of Sydney's best sights, especially in the downtown area, are easily accessible on foot. Seeing the city on foot is the cheapest and most convenient method to do so.
More bike lanes and bike-sharing programs are making Sydney a better place for people who like to ride bikes.
You can rent a car in Sydney, but it may be difficult and costly to navigate the city, especially during rush hour.
Car rentals are easily found at the Sydney Airport and all across the city if you want to drive. If you want to travel to locations outside of the city, renting a car can be a practical choice. You can use Europcar Rentals Across Sydney to Book your Car rentals.
Shhh… A secret from a Local Australian
Have you ever wondered what makes Sydney so special? 🤔 Well, let me tell you, this city has got it all! From stunning beaches to iconic landmarks like the Opera House and Harbour Bridge, Sydney is a must-visit destination for anyone looking for adventure and excitement.
If you're looking for a break from the hustle and bustle of the city, Sydney's got you covered with its amazing network of hidden urban walks, bush trails, and coastal hikes.
Trust me, the stunning views are worth the trek! #Sydney #UrbanWalks #BushTrails #CoastalHikes #EscapeTheCity OMG, guys! You can't miss out on these amazing trails in Sydney!
😍 The Bondi to Coogee Coastal Walk, Spit Bridge to Manly Walk, and the Royal National Park trails are all so popular and totally worth the hype! 🙌🏼 #SydneyTrails #CoastalWalk #ManlyBeach #RoyalNationalPark

OMG, you guys! The coffee scene in this city is seriously on point! ☕️👌🏼 Independent cafes are killing it with their high-quality brews and the locals are totally obsessed! 😍 #coffeeaddict #coffeeculture #independentcafes

If you're looking for some serious street art and cultural vibes, you gotta check out the inner suburbs of Newtown, Marrickville, and Surry Hills! 🎨🌈 #StreetArt #CulturalDiversity #InnerSuburbs #Sydney

You won't believe the hidden gems I found in Sydney! 😍🌊 Milk Beach, Kutti Beach, and Camp Cove are seriously stunning and way less crowded than the touristy spots. 🙌🏼 #SydneyBeaches #HiddenGems #TravelGoals

Have you heard of "The Gong"? It's this amazing coastal city located south of Sydney that's become a popular weekend getaway destination for Sydneysiders! 😍🌊 #TheGong #WeekendGetaway #Sydney #CoastalLiving

To get around Sydney quickly and cheaply, I recommend taking advantage of the public transit system. Many of the city's best sights are conveniently located along major transit routes, and they can all be conveniently paid for with a single Opal card.
On shorter trips or when taking in the sights of the city's parks and beaches, walking and cycling are also fantastic alternatives.
🚘UBER In Sydney
In Sydney, there are a lot of Uber cars, and it's a convenient and popular way to get around.
You must have the Uber app downloaded to your smartphone in order to use Uber in Sydney
After downloading the app and signup, you can call for a ride by specifying your pickup and destination locations.
In Sydney, Uber provides a variety of ride options, including UberX, UberBLACK, and UberPOOL.
The most well-liked choice, UberX, provides transportation in typical automobiles for up to four passengers.
UberPOOL enables you to share a journey with other passengers who are heading in the same direction, while UberBLACK provides luxurious vehicles for up to four passengers.
The distance you're traveling, the time of day, and the ride option you select will all affect the price of an Uber journey in Sydney
Yet, compared to other forms of transportation, Sydney's Uber prices are typically thought to be reasonable.
You should be aware that Uber is not permitted to pick up or drop off passengers in several regions of Sydney when using the ride-sharing service.
Before you call an Uber, check the app to see where you want to be picked up because some areas are marked as "no-stopping zones."
Attractions & Things to do in Sydney
Visit the Sydney Opera House: If you're in Sydney, you must check out this famous monument. Attend a concert to experience the opera house's acoustics and atmosphere, or take a tour to learn about its history and architecture.
Walk across the Sydney Harbor Bridge. This bridge, which is called the "Coathanger," has amazing views of the city and harbor. People can also climb to the top of the bridge to get an even better view of the whole area.
Climb the Sydney Harbour Bridge for an exhilarating and unforgettable experience. From the top, you can see the entire city and the harbor. Experience The Unforgettable From the top of Sydney's iconic Harbour Bridge. Adult Climbs from $268!
⛴Take a ferry to Manly: From Circular Quay, take a ferry to Manly, a coastal neighborhood with superb surf and a laid-back atmosphere. Swim, sunbathe, and browse the neighborhood shops and eateries all day long.
☀️Discover the Royal Botanic Garden: This stunning garden is right in the middle of Sydney and provides a peaceful haven from the bustle of the city.
Learn about the plants and creatures by taking a stroll through the gardens, bringing a picnic, or signing up for a tour with a guide.
Visit the Art Gallery of New South Wales, which is a beautiful museum with works by Australian and international artists as well as many events and exhibitions. It's a nice place to pass a rainy day or get away from the summer heat.
🚶🏻‍♀️Go for a walk along the seaside. Sydney has a number of coastal routes, including the Bondi to Coogee and the Spit to Manly walks. These strolls are a beautiful way to exercise and enjoy the outdoors while providing breathtaking views of the ocean and shoreline.
🦍See the Taronga Zoo, which houses a variety of animals from Australia and around the world. It is a well-known zoo that is situated on the banks of Sydney Harbour. To learn more about the animals and their habitats, take a ferry to the zoo or go on a guided tour.
Walk around the historic Rocks neighborhood. This is where modern Sydney started, and it is known for its cobblestone streets, pubs, and markets.
🌙Enjoy the nightlife: Sydney has a lot of bars, clubs, and places to see live music, so there is something for everyone.
These are only a few of the numerous activities and sights in Sydney. From beaches and outdoor activities to history and culture, the city has something to offer everyone. I hope this serves as some sort of motivation for your own Sydney visit!
Food and drink– Sydney
Sydney is a gastronomic mecca with a vast selection of restaurants to fit every preference and price range. Here are some suggestions for dining and drinking in Sydney:
🍣Fish Market: For seafood enthusiasts, Sydney Fish Market is a must-visit location. There are several fresh seafood alternatives available, such as fish, lobster, prawns, and oysters. Here, you may also sample a variety of seafood dishes like sushi, sashimi, and seafood paella.
☕️Coffee: There are numerous top-notch coffee places to select from in Sydney, which is regarded as having a fantastic coffee culture. In Sydney, some of the top coffee cafes are Single O, Reuben Hills, and Artificer.
🏖Bondi Beach: Bondi Beach is a well-known tourist destination with a wide variety of eateries and cafes that provide breathtaking ocean views. You can sample many cuisines, such as Italian, Greek, and contemporary Australian.
🌐Chinatown is a busy, colorful area of Sydney that is known for its delicious Asian food. You can sample a variety of Asian foods, such as Chinese, Vietnamese, Korean, and Japanese. Golden Century Seafood Restaurant, Mamak, and Din Tai Fung are a few of Chinatown's top eateries.
The Grounds of Alexandria: The Grounds of Alexandria is a unique place to eat that is set in a beautiful garden. A variety of foods and beverages are available, such as freshly baked pastries, wood-fired pizza, and specialty coffee.
🍷Wine: The Hunter Valley, the Southern Highlands, and the Mudgee region are three of Australia's top wine districts, and they are all located close to Sydney. To sample a variety of wines from these regions, go to wine bars in the city such as 10 William St, Sweet Sainte Éloise, and Love Tilly Devine.
🍦Gelato Messina is a well-known ice cream shop in Sydney that is known for making gelato that is both tasty and unique. You can sample flavors including pistachio, green tea, salted caramel, and white chocolate.
Discover unforgettable travel experiences with GetyourGuide.com
GetYourGuide.com is an extremely well-known online travel platform that provides tourists with access to a huge selection of tours, activities, and experiences in locations all over the world.
GetYourGuide.com, which has been around since 2009 but has recently experienced rapid expansion, is now a major player in the competitive online travel sector.
Booking trips and activities through the site is easy and convenient, and it covers more than 7,500 locations worldwide. Adventure activities like skydiving and hot air balloon rides sit alongside more sedate outings like strolling tours and museum visits.
Reading reviews and ratings left by other travelers is one of the best features of GetYourGuide.com. This makes sure that the activities that tourists book are good and that they are happy with them by giving them the information they need to make smart choices.
The portal has a simple layout that lets vacationers find and filter results according to their specific criteria (such as price, star rating, and proximity to their starting point).
After a traveler makes a reservation, they receive an email with information about the tour or activity, including the date, time, meeting place, and any other important details.
These are just a few of Sydney's various dining and drinking alternatives. Whatever your preferences, you're likely to find something to like in this lively and vibrant city.
Sydney Neighbourhoods:
Sydney is a bustling, multicultural city with a wide variety of areas to discover. The following are a few of Sydney's best-known neighborhoods:
Bondi: Bondi is a well-liked coastal community noted for its stunning beach, surf lifestyle, and lively restaurant and nightlife scene. It's a fantastic spot for unwinding, soaking up the sun, and taking in the bustling environment.
Paddington: Paddington is a hip district famous for its Victorian terrace homes, galleries, and boutique stores. If you're interested in fashion and design, it's a terrific area to explore.
The Rocks is a historic section of Sydney that is well-known for its picturesque cobblestone alleys, old structures, and vistas of the Sydney Harbour Bridge. If you're interested in history and architecture, it's a fantastic location to explore.
Surry Hills: Surry Hills is a stylish and multicultural area renowned for its chic cafés, eateries, and pubs. If you want a lively, diverse atmosphere, it's a terrific spot to explore.
Darlinghurst: This multicultural and colorful district is home to a thriving LGBTQ+ culture, galleries, and restaurants. If you're interested in art and culture, it's a fantastic area to explore.
The bohemian district of Newtown is well-known for its oddball stores, street art, and live music scene. If you're searching for a distinctive and imaginative environment, it's a terrific location to explore.
Manly: The city is only a short ferry trip away from the coastal town of Manly. Beautiful beaches, outdoor recreation, and a laid-back environment are some of its top attractions.
These are only a few of Sydney's many neighborhoods to visit; each one provides a distinct and exciting experience.
Comprehensive Sydney Travel guide :
Where to Stay in Sydney City
Sydney is home to several fantastic hotels, each with their own distinct character and amenities. Listed below are 10 of Sydney's top hotels, as determined by reviews and ratings from visitors:
Located in the city's center, the Park Hyatt Sydney offers breathtaking views of the Sydney Opera House and Sydney Harbour Bridge. Book Park Hyatt Sydney
The Langham, Sydney: This classy hotel with nicely fitted rooms and a variety of opulent amenities is situated in the famed Rocks Neighborhood of Sydney.
The Fullerton Hotel Sydney is a heritage-listed hotel with beautifully refurbished rooms and a variety of eating and wellness options. It is situated in the center of the city.
Sydney's Shangri-La Hotel offers a variety of dining and wellness options, spectacular harbor views, and a central location.
The CBD is home to the opulently furnished rooms of the Four Seasons Hotel Sydney, which also offers a variety of eating and spa alternatives.
The Westin Sydney Hotel: This classy hotel with tastefully refurbished rooms and a variety of eating and wellness options is situated downtown.
InterContinental Sydney: This opulent hotel is situated in the CBD and offers magnificent harbor views as well as a variety of dining and wellness options.
The Old Clare Hotel is a distinctive lodging establishment with tastefully renovated rooms and a variety of dining and wellness alternatives. It is situated in the trendy Chippendale district.
Ovolo Woolloomooloo: This chic hotel, with wonderfully designed rooms and a variety of culinary and wellness options, is situated in the hip Woolloomooloo district.
Sydney Hotel Accommodation Related Articles
Best Coffee cafes' in Sydney
There are a lot of excellent coffee shops to pick from in Sydney, which is known for its thriving coffee culture. The following are a few of Sydney's best coffee shops:
Single O: Single O is a well-known specialty coffee roaster with stores all over Sydney. Several single-origin coffees and expertly-made espresso beverages are available. 📍Single O: , Address: 60-64 Reservoir St, Surry Hills NSW 2010
Reuben Hills: Reuben Hills is a Surry Hills-based premium coffee roaster. They provide a selection of coffee beans from various countries as well as an unusual and diversified menu of meals and drinks.📍Reuben Hills: Address: 61 Albion St, Surry Hills NSW 2010
Mecca Espresso is a specialty coffee roaster with multiple locations based in Sydney. There are several single-origin coffees and expertly prepared espresso beverages available. 📍Mecca Espresso: Address: 67 King St, Sydney NSW 2000
Artificer: In Surry Hills, there is a small, independent coffee shop called Artificer. They focus on single-origin coffee and provide a changing range of international beans.📍ARTficer:Address: 547 Bourke St, Surry Hills NSW 2010
Edition Coffee Roasters is a specialty coffee roaster with locations in Darlinghurst and Haymarket. They have a menu of food and pastries, as well as a choice of single-origin coffees and well-made espresso drinks. 📍Edition Coffee Roasters: Address: 60 Darling Dr, Haymarket NSW 2000
A specialty coffee establishment and restaurant called Paramount Coffee Project are situated in Surry Hills. On the menu, you can choose from single-origin coffees and foods with an Australian twist. 📍Paramount Coffee Project, Address: 80 Commonwealth St, Surry Hills NSW 2010
The Grounds of Alexandria: The Grounds of Alexandria is in Alexandria, and it is a unique place to eat and shop. They provide a selection of coffee beverages, including specialized drinks like nitro and cold brew. 📍The Grounds of Alexandria: Address: 7a/2 Huntley St, Alexandria NSW 2015
About the Author: Div Acharya
Div is an entrepreneur, influencer, blogger, and marketer, As a travel blogger, Div had the opportunity to visit some of the world's most incredible locations.
From the bustling streets of Sydney, and the fashionable streets of Paris, to the pristine beaches of the Sunshine Coast. I've had the opportunity to immerse myself in different cultures, meet fascinating people, and try new things.
One of the things I love most about being a travel author is being able to share my experiences with others. Travel has taught me so much about the world and myself, and I feel grateful to be able to share those lessons with others through my work.