Rattan decor is making a fashionable comeback:Here are the best rattan Furniture Ideas in 2023.
This post contains affiliate links, which means we'll receive a commission if you purchase through our links, at no extra cost to you. Read the disclosure here.
Why is rattan so popular? Rattan furniture is no longer relegated to the outdoors.
Do you yearn for your home's interior to exude an air of understated opulence and timeless elegance? 
The use of rattan furniture is perfect for this because it possesses an authentic and one-of-a-kind design, making it an excellent choice to furnish any area in your house. 
There are a lot of different furniture companies that offer luxurious armchairs, sofas, dressers, coffee tables, side tables, and other rattan furniture items that mix luxurious aesthetics with an easygoing stylish vibe.
Texture and intrigue are at the forefront of design for 2022-2023, making rattan furniture one of the trendiest trends in décor. You'll find it in homes and outdoor venues around the world.
If you're unsure how to style rattan, don't worry. Below are 10 beautiful ways to use it in your home.
1. Get Extra Large Rattan Coffee Table
With this extra-large rattan coffee table in any room of your house, you are sure to make a striking impression. It has an air of vintage cool from the mid-20th century, which is very fashionable at the moment. 
The table's large, sturdy top makes it simple to use, and it has feet underneath to keep surfaces from getting scratched. 
You can create a lovely focal point in your living room by incorporating this piece. It will really help bring in that natural and outdoorsy feel. 
If you want to give a room some depth and dimension, try accessorising it with a variety of tones and patterns of rattan, like this coffee table. 
Not only will this piece give off an air of laid-back sophistication, but it will also prove to be an excellent financial investment due to its solid construction that is designed to last for a very long time.
2. Vintage Bohemian-Style Wicker Plant Stand
You want to find a beautiful plant stand for your home, don't you? This lovely natural rattan plant stand will give your plants the attention they deserve as they cozied up to one another in the space provided for them. 
On this repurposed stand, you can arrange a collection of your favoured plants, flowers, and other types of greenery. 
This  plant stand is in pristine condition, free of any imperfections, and is balanced in a symmetrical fashion. 
This item has a width of 13 inches and measures 17 inches in height. This stunning piece would look great in the foyer, tucked away in the corner of the room, or even used outside as garden furniture. 
Since it was made in the 1970s, this lovely piece of rattan furniture is an antique that should be treasured and displayed with care in your home.
3.INCLUDE cool TEXTURE IN YOUR BEDROOM
A rattan headboard creates a natural textured backdrop that checks off a few trendy boxes. Headboards complete the look of a bed, and rattan designs add visual warmth as well. 
Add another piece, such as a chair or a small pendant light, and you've got the perfect rattan weave trio.
4.Keep it simple – Remember not to over do it!
DON'T GO TOO FAR
Rattan has been making its way into our homes for a while now, but it's important not to overdo this look because it can quickly become outdated. 
Rattan has been used for hundreds of years, so it is safe to say it is timeless. 
However, it should be balanced with other tones, textures, and materials. 
Avoid matching furniture sets for one-off statement pieces and contrast with warm toned accessories,' says Sonja K, an Interior Designer based in Melbourne. 
The best way to approach this is to apply the 'less is more' philosophy and select a piece like this neat and stylish Entry table  with a rattan element – but not too obvious.
5. Put Rattan WITH THE FURNITURE THAT YOU ALREADY OWN
Put IT WITH THE FURNITURE THAT YOU ALREADY OWN
We think it's a fantastic idea to combine what you currently own with rattan furniture in some way. 
Take this room as an example to see how it works on a tactile level: the velvet Pillow and Ottoman provide a startling contrast against the  rattan armchair & rattan rug, and  side table.
 Because it has a certain amount of "give," rattan can be a very comfortable material to sit on. 
To pull the colours together and create a cohesive look, include a few cushions in a colour scheme that is similar to the one that is already in place.
6. Rattan can be with anything & Everything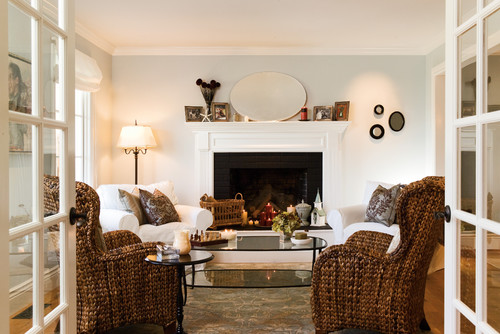 Photo by Mahoney Architects & Interiors – More living room ideas
Rattan can be with anything & Everything
That is correct, it does, in fact, go with pretty much anything, which makes it a worthwhile investment due to the fact that it can be worn in a variety of ways.
It does not matter what colour scheme you already have going on because it will fit in and provide a rustic touch to the area. Leo Milles, lead designer in a Sydney Firm,
We are huge fans of using rattan in our home furnishings! It not only lends your home an endearingly natural appearance but also helps to keep a bright and open vibe going strong throughout the day.
7. Rattan is pleasant to look at.
Rattan is pleasant to look at.
There aren't many things to dislike about rattan; not only is it formly and attractive, but it's also simple to work with in the home, as demonstrated by this hat hanger.
Another advantage is the colour of it, which will brighten up a scheme. 
According to Jayene Sergent , Interior Design Leader  Brisbane based
When it comes to interiors, naive tones are frequently a source of contention, with many people holding strong opinions either in favour of or against utilising them. The use of warm and neutral tones, on the other hand, is capable of creating an atmosphere that is open, airy, and spacious. This setting is ideal for greeting the approaching summer months and making the most of the time we have with them.
8. YOU CAN Easily MIX AND MATCH DESIGNS with rattan Furnitures
Mix & Match , baby!
The versatility of rattan's weaves enables it to be used in a wide variety of configurations, which can be utilised to great effect in the design process. 
From natural rattan, such as the lampshade you see here, to black rattan, or even a combination of natural and black rattan, there are many options. 
If you want a truly rustic atmosphere, this is the perfect way to add texture and decoration to your space to the extreme.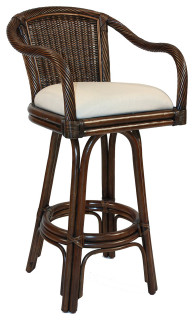 Purchase bar stools and counter stools on Houzz
9. Retro is In!
Customers are increasingly choosing nostalgic retro-inspired products that channel informal comfort and champion natural materials. 
This trend marks a departure from the streamlined minimalism that was popular in recent years.
The styles of rattan that are popular this year unmistakably have one foot planted firmly in the past. In recent weeks, there has been a marked increase in the popularity of styles that were prevalent in the 1970s. 
This trend is expected to continue for the foreseeable future. Materials made of rattan and bamboo have gained a lot of popularity recently due to their ability to combine modern lines with a more traditional and artisanal appearance.
10. cool rattan ottoman
Looking for a piece that can serve multiple purposes while adding a cosy touch to your living room? This rattan ottoman can function in any of the following ways: as a seat, a table, or a footstool.  
The natural plant exterior is covered with rattan, and the frame is topped with rattan. It has a round and smooth appearance, and there are no jagged edges or corners in its design. 
It is such a timeless and straightforward design, making it suitable for any style of interior decoration. 
Due to the fact that its construction allows for almost complete passage of air, it is suitable for use both inside and outside. To clean, all you need to do is use a damp cloth to wipe down the surface.
11. Get some colorful Rattan Furnitures
People who believe that "the traditional rattan colour" is the only colour available in rattan should not be concerned because this material is available in a wide variety of hues. 
Rattan has always been one of my favourite materials, and although it is most commonly found in outdoor furniture, I think that painted rattan furniture would look amazing inside. 
It is simple to style, giving a room a laid-back and surprising vibe, and blends beautifully with both antique and modern furniture equally.
Home decor finds Guides