How to Choose RV for your next Road trip
I absolutely love RV road trips! There's something about the freedom of the open road and the ability to explore new places that are so exciting. As of now, we have made 3 Road trips in an RV with our Pet Cavoodle.
With an RV, I have everything I need right there with me – from a comfortable bed to a kitchen and bathroom. It's like having a little home on wheels.
One of the aspects of RV road trips that I enjoy with my family the most is the degree of flexibility they provide. I have the ability to pre-plan my itinerary, including my stops, but I also have the flexibility to make last-minute adjustments if necessary.
If I see a viewpoint with a beautiful view or an attraction that looks fascinating, I can easily pull over and investigate it.
The sense of camaraderie that comes along with RVing is another aspect that I really enjoy.
There is a large population of people in the world who have the same passion as I do for driving and being outside. It's a lot of pleasure to make connections with other RVers and trade tales and advice with them.
RV road vacations do involve some planning and organisation, but that is to be expected. I make sure that I pack everything in the most effective manner possible and that the RV is always kept in an ordered state.
Moreover, whenever I have to go a considerable distance, I make it a point to stop periodically and stretch my legs.
An RV can be a great choice if you're planning a long road trip or simply looking for a comfortable and convenient way to explore new places.
However, with so many options available, it can be difficult to know where to begin.
Should you rent or purchase an RV? What type of RV should you rent if you're renting?
In this blog post, we'll look at the advantages and disadvantages of renting versus buying an RV, as well as some tips for selecting the best type of RV for your needs.
To buy or Rent RV?
This question is what we had before we started our Rving with pets. I did a lot of research to Figure out what's best for us. I'm sharing the same with you all.
If you want to explore the great outdoors while still having the comforts of home, buying or renting an RV could be a great option for you.
A recreational vehicle, also known as an RV, is a vehicle designed for camping, road trips, and travel. They range in size and style from small campervans to large motorhomes with all the bells and whistles.
When purchasing an RV, keep your budget in mind, as well as the size and type of RV that best suits your needs and preferences for features and amenities.
Renting RV
Renting an RV can be a good option if you aren't ready to make the investment or if you only intend to use it on occasion.
Whatever option you select, an RV can give you the freedom and flexibility to explore new places and create unforgettable memories.
For individuals who don't want to own an RV, renting one can be a practical and affordable solution.
There are no storage or maintenance issues, and rental firms frequently offer useful tools for organising trips. It's a flexible choice that enables you to select the ideal car for each journey.
Yet, the price can soon mount, particularly if you hire regularly or for protracted periods of time. During the busiest travel seasons, rental RV may not be available.
You might also have fewer options for modifying the RV to meet your needs. This is true when you have pets and you want to make modifications as per your pets needs.
In conclusion, renting an RV can be a practical choice for infrequent travellers, but it might not be economical for frequent travellers or those looking for a more individualised experience.
Buying an RV
Purchasing an RV can provide you the independence and flexibility to travel at your own pace, personalise your trip, and possibly even save you money over time. You can customise the RV to your needs, go on impromptu travels, and save money on rental costs.
You get to know the car, and it might be a good investment. Yet costs both up front and over time might be significant.
Storage fees, fuel expenditures, and maintenance costs can mount up. The upkeep of the RV is another duty that some people may find difficult.
Furthermore, if you don't utilise the RV frequently, it might not be a wise investment. Before purchasing an RV, thoroughly weigh the costs and advantages.
In the end, the optimal time to buy a recreational vehicle is when you can do so within the confines of your own personal finances and circumstances.
To locate the recreational vehicle (RV) that best suits your needs, you should make it a point to conduct extensive research and make price and feature comparisons.
10 Questions to ask yourself before you Choose RV
Choosing the right RV can be a difficult task, especially if you're new to RVing. Here are ten questions to consider before purchasing an RV:
What is your financial situation?
RVs can cost anywhere from a few thousand dollars to hundreds of thousands of dollars, so set a budget before you start looking.
What kind of RV are you looking for?
Do you want a motorhome, a travel trailer, a fifth wheel, or something else? Each type has advantages and disadvantages, so consider your lifestyle and travel requirements.
How many people are you taking with you? If you have a large family or intend to travel with friends, an RV with enough sleeping space and seating is required.
How long will your journeys last? If you intend to travel long distances, you'll need an RV with plenty of storage space for food, clothing, and other necessities.
How much weight can your current car tow? We have a Mercedes GLC and we figured its not possible to Tow a Fifth wheel however we can Tow a Travel Trailer ( which is quite enough for our family of 4). If you have a Bigger family small Travel Trailers may not be enough – either you may want to go for Fifth wheel or Class A Motorhomes.
If you intend to tow a travel trailer or fifth wheel, make sure your vehicle is capable of handling the weight.
Also read: Unleashing the Beast: Which Mercedes-Benz Packs the Most Towing Power
What amenities do you require?
Do you require a complete kitchen, bathroom, and shower? Do you require cooling or heating? Think about the features that are important to you.
Where are you going to keep your RV?
If you don't have enough space at home to store your RV, you'll need to find a storage facility.
What is your level of RVing experience?
If you're new to RVing, you might want to start with a smaller, more manageable RV.
What is the RV's resale value? Consider the resale value of the RV if you intend to sell it in the future.
What is the manufacturer's track record? To ensure you're buying a dependable RV, look into the manufacturer's reputation for quality and customer service.
You'll be better equipped to choose the right RV for your needs and budget if you answer these ten questions.
There are a few additional things to consider if you plan to travel with your pet in your RV. Here are some suggestions for RVing with pets:
Make sure your RV is pet-friendly: Some RVs are not suitable for pets, so look for one with pet-friendly features like non-slip flooring, a secure area for your pet to travel in, and easy-to-clean surfaces.
Which RV type is right for me
I want to tow my RV( Towables)
I want to drive my RV( Drivable/Motored)
Provides more flexibility with access to a smaller, secondary car for exploring and more living space.
Options you have – Travel Trailer & Fifth Wheel
Provides the best rent-and-go option and allows for simplicity when it comes to setting up camp, just shift the RV into park.
Options you have Class C Motorhome and Class A Motorhome
Travel Trailer: excellent choice with a greater variety of facilities
Enable for the use of a second car to access local areas Available in a variety of sizes.
A vehicle can pull a travel trailer if it has the necessary towing capacity, which is based on the trailer's weight as well as the suspension and engine of the towing vehicle.
Tow vehicles for a travel trailer include vans, SUVs, and pickup trucks.
Take into account the vehicle's towing capacity, the weight of the trailer, and any additional accessories such as a hitch or brake controller. For a secure journey, adhere to the towing safety recommendations.
Which Luxe car can Tow small travel trailer
Luxurious cars that can pull small travel trailers are more prevalent than cars that can tow fifth wheels.
Certain high-end SUVs, such the Mercedes-Benz GLE, BMW X5, and Audi Q7, can tow compact trailers.
The Ford F-150 and GMC Sierra are two examples of high-end pickup vehicles that can pull smaller travel trailers.
It's crucial to take the vehicle's towing capability and any required accessories, such as a hitch and brake controller, into account when choosing a luxury car to tow a tiny travel trailer.
For a secure and comfortable journey, always refer to the owner's manual of your car and abide by the towing safety rules.
Fifth wheel: carries a hitch in the overbed area It is possible to have as many as five slide-outs, making it look like a house.
A pickup truck with a unique fifth wheel hitch fitted in the truck bed may tow a fifth wheel, which is a particular kind of towable RV.
Compared to a conventional travel trailer hitch, this hitch style enables superior stability and weight distribution.
Fifth wheels often have higher ceilings and more living space than travel trailers, making them bigger and more spacious.
They frequently have several slide-outs, which increase the living space when parked.
If you want a roomy, opulent RV that can be readily pulled by a pickup vehicle with the correct equipment, fifth wheels can be a terrific option.
Which Luxe car can Tow Fifth wheel
There aren't many luxurious cars that can tow fifth wheels. Fifth wheels can be towed by high-end pickup trucks like the Ford F-250, F-350, and F-450, GMC Sierra 2500HD and 3500HD, and Ram 2500 and 3500.
These trucks offer a comfortable and secure towing experience thanks to their strong engines, large payload capacity, and cutting-edge towing technologies.
When towing a fifth wheel with any vehicle, it's crucial to review the manufacturer's safety recommendations and towing standards.
The weight of the fifth wheel and any other equipment required for safe towing must also be taken into account. Towing a fifth wheel may be a relaxing and opulent experience with the right planning and tools.
Class C Motorhome: Can provide the luxurious features of a Class A hotel at a more affordable rate
Having varying sizes .The larger the recreational vehicle, the worse the mileage on the petrol tank.
Class A MotorHome: May be outfitted with full-size conveniences and amenities (such as an oven or bed) Often the most expensive and luxurious of all available options
An RV classified as a Class C features a distinctive cab-over design with a sleeping or storage area above the driver's cabin and is constructed on a van or truck chassis.
Class C motorhomes offer a reasonable compromise between living space and manoeuvrability because they are typically smaller than Class A motorhomes but larger than Class B RVs.
These frequently sleep 4-6 people and feature a separate bedroom, bathroom, and kitchenette in the back.
Families or couples looking for a cosy, adaptable RV that is simple to drive and park may find class C motorhomes to be a nice alternative.
When we started our 1st Rv Road trips in 2019 started with Renting a Class c MotorHome. IN 2021 Trip we rented a Class A MororHome/Camper van. Now we are considering Buying a Fifth wheel for our regular Road trips
Buying RV
Whether you're an experienced RVer or just starting out, this guide will help you make an informed decision and get the most out of your RV experience.
Purchasing an RV is a significant financial commitment. For many, it will rank second only to purchasing a home.
When Is the Right Time to Purchase an RV?
What is the ideal time to buy an RV? That answer can change depending on the specifics of your situation as well as the state of the market. While selecting whether or not to purchase a recreational vehicle, however, the following are some considerations to keep in mind:
The months of fall and winter are traditionally the off-season for RV sales. This may be a good time to purchase an RV because dealerships may provide discounts and incentives to move inventory before the new year begins.
Towards the end of each model year, when new models are being introduced, car dealerships may try to get rid of their older inventory in order to make way for the new models. This presents the possibility of snagging an excellent deal on an older version of the product.
Personal money: Examine your personal finances to determine whether or not it is an appropriate moment for you to make a significant investment, such as buying an RV.
Changes in lifestyle: If you are considering making significant adjustments to your way of life, such as retiring or moving to a new place, now might be a good time to purchase an RV.
Rates of interest It is important to keep an eye on interest rates because they can have an effect on how affordable it is to finance the purchase of an RV.
This is not a project to be taken lightly. You must exercise the same caution that you would when purchasing a car or a home.
Because your RV will be both your home and your mode of transportation. When you carry your home with you, there are some things you should be aware of, which may be unexpected or surprising.
Coming soon: How to Choose and Buy an RV was written to help you through the process. Manny has combined his background as a Digital Artist, his experience on the road with a variety of RVs, and his background as a Blogger and author to create an ebook that will walk you through everything you need to know to make the best decision.
Should you tow your caravan or purchase a motorhome? Should you tow with a camper trailer, a conventional caravan, or a fifth-wheeler?
There are a dizzying array of RV types to choose from. You'll want to know which is best for the type of trip you're planning. This book explains the benefits and drawbacks of each.
What kind of design will work best for you? Do you require an annexe? What about a microwave and a television? What kind of toilet and shower should you bring? What accessories are absolutely necessary, and what can you do without?
How to Choose and Buy an RV is jam-packed with the facts you need to make an educated decision.
If you already own an RV you'll discover things that will make you think "If only I'd known that before I Purchased RV".
If you don't already have one, this Blog can serve as your adviser and guide as you make one of the most important financial decisions you'll ever make.
RVs are expensive, but they offer freedom and adventure.
🚙 My biggest thrill and fear was buying an RV. I wanted to travel the country, but I didn't know where to start buying an RV.
I started by researching RVs to find the greatest fit. I looked at everything from little campervans to luxury motorhomes. I chose a mid-sized Class C motorhome that was large enough to live in but manageable on the road.
Next, I spent hours at RV showrooms touring models and talking to salespeople. That was daunting at first, but the more RVs I viewed, the better I understood what I wanted and my budget.
I negotiated price and financing with the dealership after finding the right RV. I studied the contract's tiny print and understood the warranty and maintenance obligations.
Finally, I drove my new RV off the lot. Knowing I had all I needed to explore the country was exciting. .
Guide to Purchasing an RV

If you're thinking about purchasing an RV, there are a few things you should consider to ensure you make the right choice. Here's a step-by-step guide to help you get started:
Buy Your RV here
The broad reach and powerful marketing tools of RVT.com can also be used to the advantage of sellers. .
Featured listings, banner ads, and email marketing campaigns are just a few of the listing packages available to sellers.
Determine your budget: Because RVs can range in price from a few thousand dollars to hundreds of thousands of dollars, you must first determine your budget before you begin looking. Consider not only the initial purchase price, but also ongoing costs such as insurance, maintenance, and fuel.
Determine the type of RV you want: RVs range from motorhomes to travel trailers to fifth wheels. Consider your lifestyle and travel requirements to determine the best RV for you.
Once you've decided on the type of RV you want, look into different models and brands to find one that fits your budget and needs.
Look for reviews and ratings from other RV owners to get an idea of the advantages and disadvantages of each model.
Inspect the RV thoroughly before purchasing: Before purchasing, thoroughly inspect the RV to ensure it is in good condition. Examine the area for signs of wear and tear, leaks, and damage. If you're not confident in your abilities, consider hiring a professional inspector.
Test drive the RV: If you're considering purchasing a motorhome, take it for a spin to see how it handles on the road. Consider things like acceleration, braking, and turning.
Negotiate the price: Once you've found an RV you like, talk to the seller about the price. To justify a lower price, use your research and any issues discovered during the inspection.
Secure financing: If you need to borrow money to buy an RV, shop around for the best rates and terms. Consider getting pre-approved for a loan before you begin shopping to increase your bargaining power.
Complete the paperwork: Once you've agreed on a price, the paperwork to transfer ownership of the RV must be completed. Ensure that the RV is registered with your state and that any necessary permits or licences are obtained.
Get RV Insurance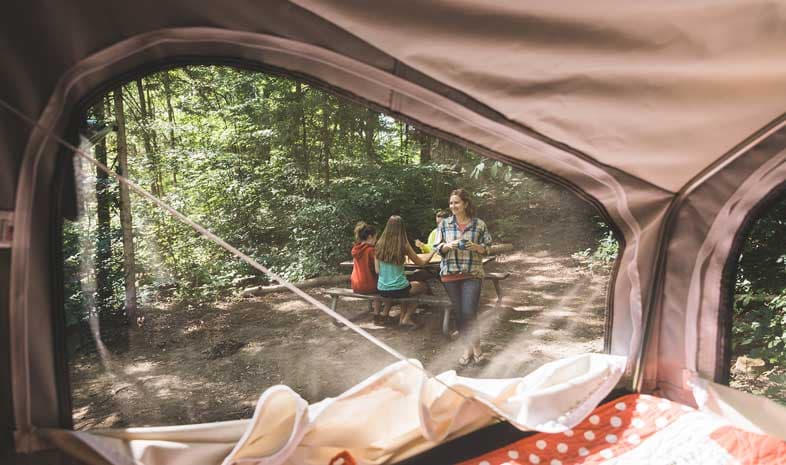 RV Insurance:
Roamly.com RV Insurance is an insurance company that specialises in RV coverage.
They have policies to suit all types of RVs, from Class A motorhomes to travel trailers.
Protect your RV and save up to 35%*
---
About Roamly.com RV Insurance: Roamly RV Insurance is an insurance company that specialises in RV coverage. They have policies to suit all types of RVs, from Class A motorhomes to travel trailers.
Their policies cover common risks such as collisions, theft, and liability, as well as more unusual risks such as animal damage or natural disasters.
Roamly.com also provides optional extras such as roadside assistance and personal effects insurance.
They take pride in providing transparent, hassle-free policies that are tailored to each customer's specific requirements.
Overall, Roamly is an excellent choice for RV owners seeking comprehensive and customizable insurance coverage.
Tips to get your RV Insurance:
Shop around: Just like with car insurance, it's a good idea to compare RV insurance quotes. Obtain quotes from several insurance companies to determine the best coverage and rates.
Consider the type of protection you require: RV insurance can include coverage for liability, collision, and comprehensive damage, as well as personal belongings and accessories. Based on your RV and usage, determine the type of coverage you require.
Learn about your policy: Make sure you understand your RV insurance policy's terms and conditions, including deductibles, exclusions, and limits.
Inquire about discounts: Many insurance companies provide discounts for factors such as safe driving, RV club membership, and multiple policies. In order to reduce your insurance costs, enquire about available discounts.
Work with a seasoned agent: An experienced insurance agent can assist you in determining the appropriate coverage and answering any questions you may have about RV insurance.
Regularly review and update your policy: As your RV usage and needs change, make sure to review and update your policy to ensure you have the coverage you require.
In the event of an accident or other unforeseen circumstances, RV insurance can protect you and your RV. You can find the best RV insurance policy for your needs and budget by following these guidelines.
Purchasing an RV can be a significant investment, but with proper research and preparation, you can find the ideal RV to meet your needs and budget.
---
Renting RV | How to rent an RV for Road trip
Do you wish to travel the open road and discover new places in a comfortable and convenient manner? Renting an RV may be the ideal solution for you.
Renting an RV provides flexibility, comfort, and a sense of adventure that traditional modes of transportation cannot match.
This blog will provide you with an RV rental guide, including advice on selecting the right RV, planning your trip, and ensuring a safe and enjoyable experience.
Our guide will help you get the most out of your RV rental experience, whether you're a first-time renter or a seasoned pro. So, let's get this party started!
Renting RV Guide

If you want to rent an RV for your next trip, here are some pointers to get you started:
Determine your budget: The cost of renting an RV varies greatly depending on the type of RV, the length of your trip, and the rental company. Before you begin looking for rentals, determine your budget.
When selecting the right type of RV for your needs, consider the size of your party, the type of terrain you'll be travelling on, and your level of comfort driving a larger vehicle.
Renting RV
RVShare: RVs for All Your Travel Needs
Pet Friendly RVs : Take your furry friends along on your next big adventure
Deliverable RVs : Enjoy the added convenience of having your RV delivered anywhere
Look into the following rental companies: Look for rental companies that have a good reputation and a lot of positive feedback. Check for any applicable fees or restrictions, such as mileage limits or restrictions on where you can take the RV.
RVshare.com is a peer-to-peer rental service that links renters and RV owners. 

Renters can explore and reserve RVs on the platform, where RV owners can advertise their vehicles for rental. 
From travel trailers to Class A motorhomes, RVshare offers a wide range of RV models along with insurance, roadside assistance, and round-the-clock customer service for a worry-free rental experience.
Make a reservation: Once you've found a rental company you like, make a reservation as soon as possible to ensure availability.
Plan your route and stops ahead of time to ensure that you have enough time to see and do everything you want to see and do.
Pack appropriately: Although most RVs come with some basic supplies, you'll need to bring your own bedding, towels, and other personal items. Make a packing list to ensure that nothing important is overlooked.
Get acquainted with the RV: Before you hit the road, spend some time getting acquainted with the RV's features and how everything works.
Driving practise: If you're not used to driving a larger vehicle, spend some time practising in a safe, empty parking lot or other low-traffic area.
Be mindful of RV etiquette: When parking, setting up camp, and using shared facilities, be considerate of other RVers and follow proper RV etiquette.
Return the RV in good condition: After your trip, make sure to clean up the RV and return it in good condition to avoid additional fees.
Renting an RV is a fun way to see new places and enjoy the great outdoors. You can have a safe and enjoyable RV rental experience if you follow these tips.
Where can I rent an RV?

There are two types of RV rentals. You could rent from a large company such as Outdoorsy or Cruise America, which has more standard offerings but is less likely to provide you with something truly unique or personal.
You could also rent from another individual RV owner via a site that operates an Airbnb-for-RVs model, such as RVshare.
Whatever style you choose, most online RV rental agencies allow you to compare prices, dates, and models. Unlike car rental companies, which all provide the same basic services in similar ways, the RV rental world is more akin to the Wild West.
Expect each company to have different pricing and mileage rules — and those rules may vary by vehicle.
There are various rules regarding minimum rental length, and some allow you to drive the RV one way while others require a roundtrip journey.
Some RV owners will deliver the vehicle to your home, while others will drive it to your campground for you, eliminating the need for you to drive it at all.
Here are the top five RV rental companies:
Best Value & Overall: RV Share
Best Overall: Outdoorsy
Best International: Camper Travel Bookings
Best Traditional Rental: Cruise America
Best for Pet Friendly RV El Monte RV
RV Share like Outdoorsy, allows RV owners to rent out their vehicles to those in need — and it's the market leader in this segment.
It also has an added benefit: not only does it facilitate peer-to-peer rentals, but RV dealerships will list vehicles available for rent, so you can drive something shiny and new if you prefer (this can be useful if you're thinking about buying an RV).
Outdoorsy has been dubbed the "AirbnB of RV rentals." The company, which has a "A+" rating from the Better Business Bureau (BBB), offers peer-to-peer rentals, making it simple for people who need to rent an RV as well as those who want to make money from the RV sitting in their driveway.
Outdoorsy offers a wide range of vehicles, from full-fledged motorhomes to vintage vehicles and small tow-along trailers, and the company works to protect both owners and drivers (they'll do a licence and DMV check for renters, for example).
Cruise America: If you want a more traditional rental experience, Cruise America is a good option. You simply select your vehicle from one of the five sizes available, much like when renting a car.
With over 130 locations in the United States, there's a good chance there's one near you. Rental locations are particularly common in popular tourist destinations and national parks.
Camper Travel Bookings: Camper Travel Bookings can help you travel abroad by RV. Thinking of an Australian or Basque trek? The website rents in Canada, Australia, New Zealand, Europe, South Africa, and more than 45 U.S. cities. Best of all, Camper Travel Bookings partners with other rental companies like El Monte to showcase their cars, so there are many options.
El Monte RV is another long-standing RV rental firm that allows one-way rentals. El Monte RV is an excellent alternative for driving and flying back.
These rentals are pet-friendly, so you can bring your pets to enjoy the sites without paying hotel fees or leaving them at home. Pet-owning tenants can find travel information and guides online.
Wrapping Note
Finding the recreational vehicle (RV) that is best suited to your requirements can be a challenging endeavour; however, this does not have to be the case.
You may select the RV that is ideal for you if you narrow down your possibilities by thinking about the kind of trips you like to take, how much money you want to spend, and the features that are absolutely necessary.
To get started, give some thought to the kind of vacation you want to take. Do you plan to spend most of your time camping, or do you want the option to free camp in more distant areas?
Do you prefer a larger recreational vehicle that has all the bells and whistles, or a smaller one that is easy to manoeuvre?
Secondly, give some thought to your financial plan. Because of the vast range of prices for recreational vehicles (RVs), it is essential to first assess how much money you are ready to spend and then investigate the various financing possibilities.
Finally, give some thought to the characteristics that are the most essential to you.
Do you require a fully-equipped kitchen, a bedroom that is located on its own, or a bathroom that has a shower? Are you interested in high-end finishes, or are you seeking for something more fundamental?
When you take all of these considerations into account, you will be able to limit down your selections and locate the RV that is the most suitable for both your lifestyle and your finances.
And as soon as you drive out in your brand-new RV, you'll be well on your way to making memories that will last a lifetime and revelling in the independence that comes with being out on the open road.
Manny Acharya is a blogger, influencer, and co-founder of PepLifestyle and Artmellows. Manny loves being a lifestyle & Digital Art blogger.