❤️‍🩹Honeymoon In Paris 2023 ❤️‍🩹
This post contains affiliate links, which means we'll receive a commission if you purchase through our links, at no extra cost to you. Read the disclosure here.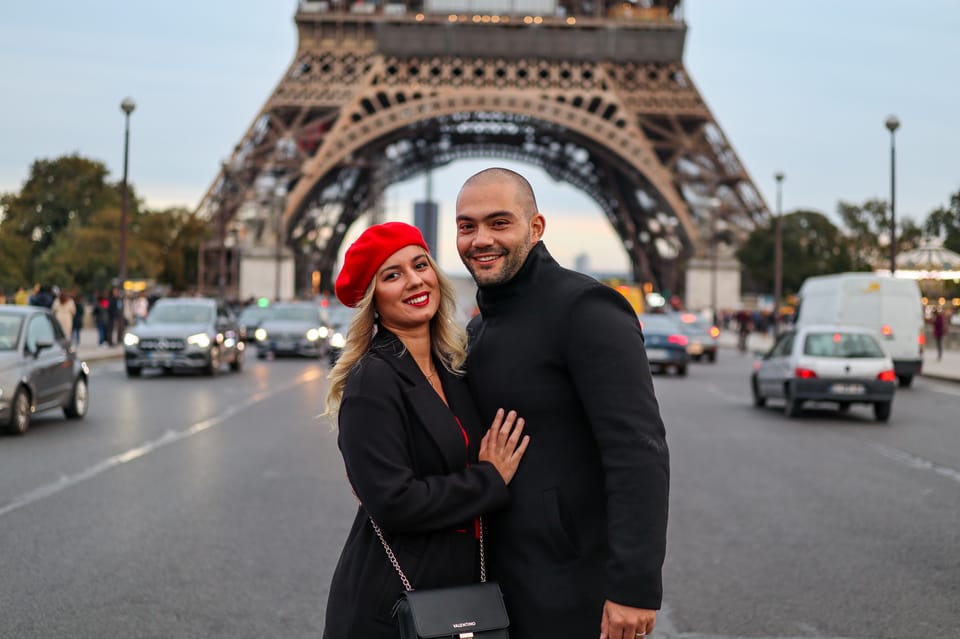 Is Paris a city of romance that makes you fall in love with your significant other all over again, or is it a city that provides the most beautiful backdrop for the most honest of confessions?
🎐👉🏻Check out out latest and in-depth blog on best Paris Hotels- 📍💡Discovering Parisian Luxury: Your Ultimate Guide to the Best Hotels in Paris
It's hard to think of anything that could be more romantic than spending your honeymoon in Paris.
It has been known for decades that the City of Lights is a mecca for lovers from all over the world, and if you want to start off your marriage on the right foot, planning your honeymoon in Paris is an excellent choice.
🎐👉🏻Check out out latest and in-depth blog on How to Choose, Book, Save Money, and Enjoy Your Stay in Hotels across the Globe -  💡📌The Ultimate Guide to the Best Hotels: How to Choose, Book,Save Money and Enjoy Your Stay⭐️📌. More travel Blogs here
Regardless of how we frame it, you already know that when it comes to honeymoons, we're talking about Paris.
The world-famous Eiffel Tower, the allure of The Louvre, the allure of the city's lovely culture, and a lot of other things contribute to the city's status as an eternal refuge of romance.
🌐 This post forms part of Planning a trip to Paris guide that helps you to explore hotels, ITINERARIES, Restaurants, and Top attractions and Make reservations in advance & Save Money also 🧳Pack wisely. Bon voyage!

Consequently, a trip to Paris for the honeymoon is almost always a smart choice.
We've got everything covered here so that you can put your mind at ease and not stress over organizing your trip to Europe.
Our Paris honeymoon guide is meant to direct you to all of the cosiest areas and most romantic places in Paris, as well as to ensure that the logistics take up as little effort as possible (after all, you're busy enough organising a wedding–who wants to worry about a honeymoon on top of that?).
Ideal Paris Honeymoon Guide for Lovers
🙇🏻‍♀️Is it a Good Idea to Honeymoon in Paris?
☔️Best Time To Plan Your Honeymoon In Paris
☀️What is Paris weather Like and its Seasons
🫖Perfect Duration For Your Honeymoon In Paris
𝌤Packing list For Your Honeymoon In Paris
🚕Getting In Paris
🚌Getting Around Paris
💡Top-Notch Romantic Places To Visit On Your Honeymoon In Paris
❤️‍🩹Romantic Things To Do On Your Honeymoon In Paris
🍧Romantic eat-outs for couples in Paris
🏨Romantic Places To Stay For Honeymoon In Paris
🙋🏻‍♀️Frequently Asked Questions About Honeymoon In Paris
Is It a Good Idea to Have a Honeymoon in Paris?
The city of Paris is the epitome of the ideal, romantic honeymoon location. You and your sweetie will take romantic strolls down historic cobblestone streets, enjoy people-watching at outdoor cafés, and dine at restaurants that have earned Michelin stars while the city's stunning architecture serves as a backdrop.
The city is also home to a number of the most prestigious museums in the world, including the Louvre, as well as a large number of luxury flagship stores and trendy dining experiences.
It is not difficult to get to Paris, which is another reason why the city is so popular for honeymoons. In point of fact, direct flights to Paris Charles de Gaulle Airport are available from the majority of the main airports in North America.
💠Before you travel to Europe, make sure you don't overlook these three vital considerations:
📍Get travel insurance! I have complete faith in Essential travel -Insurance, and I have nothing but positive things to say about them.
They offer three policy options: bronze, silver, and gold, with gold being the most expensive and providing the most coverage.

In addition to the standard coverage, they take care of things like flight delays and cancellations, unexpected medical expenses, and misplaced luggage (as per the policy type selected).
And the lowest price for one of their Bronze plans is just $39.56 for a young couple valid for up to 22 days of a Trip( For Example).
To purchase your Essential Travel Medical Insurance, click on the link provided and save Upto 50% of Holiday add-ons.
If you are not keen to drive in Europe ,you can use the OMIO.com website to purchase train tickets between the city and for day trips
🚌The OMIO website also allows you to book train tickets between the cities and other destinations. It is quite simple, and it is in the English language.
Visit my Travel Gear and Resources Page to see what I think are the best travel tools and services that can help you plan your trip. I hope you find this information useful.
Best Time To Plan Your Honeymoon In Paris
You'd say just after the wedding right? Yes, You are correct However, If you consider the weather and Season for Visiting Paris spring time is the best for Honeymooners.
The city of Paris is renowned for its unparalleled attractiveness in the springtime.
If you must travel during the summer, the month of August is a good choice because it is less busy.
However, many Parisians will be on vacation during that month, so many restaurants and museums will be closed as a result.
Be aware that December in Paris may be quite chilly, despite the city's enchantment brought on by its many Christmas markets.
The weather in Paris during the winter is often dreary and damp.
If you don't want to spend most of your time sipping hot chocolate inside, you should try to schedule your date for a different time of year.
Although nothing can alter the city's enduringly romantic vibe, and Paris retains its stunning good looks throughout the year, the months of June through August represent the ideal time to visit Paris for a honeymoon.
You have picked an ideal time to go out and discover the city because the weather is wonderful and the days are bright and sunny for a significant portion of the day.
🧂Ideal Season to Visit Paris

The ideal months to visit Paris are April through June and early November when the weather is nice and there aren't as many tourists around.
However, due to the severe winters Paris experiences, the cheapest months to visit are early December, January, and February.
The ideal time of year to visit Paris depends on the type of traveller
The best months to stay outside in Paris are April through October and July through August.

The best months for Honeymooners: May, June, September, and October are the best months for honeymooners.
Best Time for Shopaholics: Winter Sales run from early January through mid-February, and the summer Sales extend from late June through July.
Best Time for Budget Travelers: November, early December, January & February

The best months to visit museums and take in the sights are April, May, June, September, and early November.
Paris weather & Seasons
Paris weather 🌤
The city of Paris has a climate that is generally mild across all four of its distinct seasons.
Temperatures in the daytime peak range from 46 degrees Fahrenheit (8 degrees Celsius) in the winter to 77 degrees Fahrenheit (25 degrees Celsius) in the middle of summer. ☀️
It does not rain very often, in contrast to temperatures that are extremely cold or hot.
During the course of a typical day in Paris, brief periods of drizzle are not uncommon.
Take a look at the table below, which shows the average temperatures and number of rainy days in the City of Light each month, to get a better idea of what the weather will be like when you go there on vacation.
Seasons In Paris☔️
Spring (March – May) (March – May)
The beginning of spring in Paris is a frigid time of year, with average high temperatures in March of approximately 54 degrees Fahrenheit (12 degrees Celsius). Despite this, tourists flock to the French city during this season.
The temperature rises to a fairly comfortable 68 degrees Fahrenheit (20 degrees Celsius) during the month of May, making it ideal for spending the day touring the city's many lovely parks and gardens.
On this very blog, you will find a list of our Top 5 Parks and Gardens that you can visit.
The nights will continue to be very cool throughout the season, and you shouldn't be shocked if there are some drizzles.
In case it gets cold, you should always have a thin jacket with a hood that zips on with you…
Check out this blog for some tips on what to bring to Paris in the springtime.
☀️Summer (June – August) (June – August)
It is the busiest time of year for tourism in Paris, and the city's temperatures have risen to match the influx of visitors. In addition to daytime highs of at least 83 degrees Fahrenheit (25 degrees Celsius), brisk nights of approximately 13 degrees Fahrenheit warmer are also in the forecast.
As luck would have it, we are currently in the driest portion of the year; therefore, you should definitely wear shades.
Bear in mind that even though these temperatures might not appear particularly high to some people, Paris might feel much warmer due to the high levels of humidity.
🍁Autumn (September – December) (September – December)
Autumn is a wonderful time to visit Paris since inhabitants have returned from their vacations throughout the summer and there are less tourists in the city.
The month of October marks the beginning of a significant drop in temperature, but if you brought a jacket with you, the fall season is ideal for taking long excursions through Paris's most beautiful neighbourhoods and going for a stroll along the Seine River.
Always be prepared for the possibility of a brisk wind gust and a cool rain shower. Prepare for highs ranging from 46 degrees Fahrenheit (8 degrees Celsius) to 62 degrees Fahrenheit (17 degrees Celsius) each day by bringing appropriate clothing.
🥶Winter (January – February) (January – February)
Winter in Paris is a very magical time of year, despite the fact that the days are shorter and the weather is somewhat wetter.
The city that is known as the "City of Light" shines brightly under the glow of spectacular holiday lights, living up to its moniker as the "City of Light."
If you rent an apartment with a view of the city, such as one in the Chambertin or Cognac neighbourhoods, you will enjoy spending the afternoons enjoying a glass of wine and a crusty baguette while feeling cozy and warm inside your apartment while watching the Eiffel Tower light up right in front of you.
Honeymoon in Paris
💠Perfect Duration For Your Honeymoon In Paris
How long to stay in Paris as Honey Mooners…
The length of time you spend on your honeymoon in Paris is entirely up to you and how long you want your relaxing and romantic vacation to be, but three to four days is the perfect amount of time to explore the city and take advantage of the activities that will keep you most entertained.
The typical cost of a hotel room is $200-$550 per night( depending on the kind of accommodation you chose. It can even go Up to $1000-$2000/per night if you choose deluxe apartments/Hotels
Transfers within the area: $50-100 per day
Meals, including taxes, cost $45-65 each meal Excluding Breakfast
Wine: $45-65
Sightseeing: $60-$100
Miscellaneous:$ 100-200
The typical daily cost is $400-$600 per couple each day.
🌐Note the following:
The cost of flights has been taken out of the equation, and instead, an average night's stay at a hotel has been factored in. This was done with the knowledge that a traveller's accommodation expenses can vary significantly.
The price of the meals includes lunch and dinner, but not breakfast, even though most hotels provide breakfast for their guests.
When calculating the average cost of providing care for one person per day, a lower limit has also been taken into consideration.
Handy Tips for Your Honeymoon Trip to the City of Lights- Paris
📌 Before you start making plans for your honeymoon and buying plane tickets, make sure you check the forecast.
📍 Remember to bring a charger that is compatible with all of your electronic devices.
🍁 Along with the other necessities for the trip, make sure you pack appropriate clothing. A map is absolutely necessary in order to keep track of both the city and the routes.
🥶 Read on for some additional information about Honeymoon Planning Tips: Your Checklist for an Unforgettable Experience!
🔰To reduce the amount of money you spend while in Paris, consider purchasing a Paris Passlib either online or as soon as you get in the city.
🌐 Choose to commute via public transportation whenever possible because doing so not only helps you save money but also provides you with an opportunity to experience local culture.
💠 Because pickpocketing is a problem throughout Europe, you should always keep your bags and purses close to you and make sure they are closed while you are on the move.
🎧 Make sure that your list of "things to do" is prepared ahead of time so that you don't end up missing out on anything while you're in this area.
Are you ready for your romantic escapade?
There is no other location on earth that compares to this idyllic setting for a holiday spent with the person you love most in the world.
Be sure that everything is in order, and don't forget to tailor your honeymoon vacation to Europe with TravelTriangle in order to make it an even more unforgettable experience!
𝌤Packing List For Your Honeymoon In Paris
As one of the world's fashion capitals, Paris doesn't need anything more from you than a suitcase full of stylish clothes and accessories.
In spite of the fact that the kind of clothing you should bring on your honeymoon to Paris will be determined entirely by the time of year in which you want to go there, the following is a list of some items that should definitely be included in your travel luggage:
While flying to Paris ,you should ensure that your carry-on bag contains a travel kit that includes earplugs, an eye mask, a pair of sweat socks, and a toothbrush.
Bring along a European universal adapter so that you can easily charge your cell phone, laptop, camera, and any other electrical device you might have with you.
To minimise any last-minute stress, make sure you have copies of all of your key documents, including as your tickets, itinerary, passport,( and Visa If needed) on hand as well as in your luggage.
It is essential that you bring along a power bank, a pair of sunglasses, an umbrella, and a cap that may be worn while travelling.
To ensure that we are familiar with every nook and cranny of the city, we should have a thorough street map in our cabin baggage.
Last but not the least, Do not forget to bring along a pair of shoes that are not only comfortable but also allow you to move around freely for the entirety of the day. And only one pair of chic shoes to show off the rest of your impressive ensemble when you're out on a dinner date.
🚞 Getting In Paris
How to reach Paris by Air
Airline services in Paris are kept in good condition, allowing the city to be connected to other cities across the world.
The Charles de Gaulle International Airport, the Orly International Airport, and the Paris-Beauvais Airport are the three major international airports in the area.
Several airlines, including Qatar Airways, Air France, Jet Airways, Etihad, Qantas Airlines, and others, offer direct flights from a number of US cities.
The majority of flights arriving at Beauvais Airport from destinations such as Budapest and Dublin are of the low-cost variety.
✈️ Paris Airport, located in Paris, is the closest airport.
How to Get to Paris by Train
The train system in Paris is extremely well connected, both within the city and to the rest of the world.
There are six train stations that are used by trains that run on time and transport passengers to and from a number of different cities.
The high-speed train known as the Eurostar also provides service to cities located throughout Europe.
By Road: 🚌
Within the city limits of Paris as well as to and from other cities in France, the bus service is of a high quality.
One of the most significant bus companies in Paris is called Eurolines.
In addition, there is the affordable travel bus company known as Megabus, which operates routes connecting Paris with Brussels, the United Kingdom, and Amsterdam.
Expressways of superior construction connect the French capital city of Paris to the country's other major urban centres (also called autoroutes).
Due to the heavy volume of traffic, the best option is to take public transportation. It is recommended that you hire a taxi if you have your heart set on travelling by car.
Getting Around Paris
Via METRO
In addition to being one of the most technologically advanced subway systems in the world, the Paris Metro is also the second busiest metro system in all of Europe.
There are sixteen different metro lines that are active in the city, and they run trains from 5:30 in the morning until 12:30 in the morning.
The service is extremely good, with trains arriving at a good frequency of about once every two to three minutes.
There is a wide variety of passes available to you, each of which may be purchased at a different price depending on the length of time the pass is valir, the number of times it is used, and the five zones that make up the Paris region.

The pricing is as follows:
one ticket costs 1.80 euros, a carnet of 10 tickets costs 14.10 euros, and a carnet of 10 tickets with discounted fee for children under 10 costs 7.05 euros.
Full price for a 'Mobilis' ticket valid for one day Zone 1+2=€7.00, 1-day ticket for the "full fare" on Mobilis Zone 1-3 costs €9.30, while a 1-day 'Jeunes' ticket for zones 1-3 costs €3.5.
The 'Jeunes' ticket is only valid on Saturdays, Sundays, and public holidays and is only available to people under the age of 26.
Via BUS🚌
While riding the Paris Metro might be a once-in-a-lifetime experience, it also means you might miss out on seeing some of the city's sights as you go underground from one famous site to another.
One of the best alternatives to taking the subway is the bus.
The majority of buses in Paris operate from 6:30 in the morning until 8:30 in the evening; but, depending on where section of the city you are in, there are certain buses that operate until midnight.
Express Network Serving Regional Areas
Via REGIONAL EXPRESS NETWORK
When it comes to travelling within Paris, the Regional Express Network is hands down the most user-friendly means of public transportation.
At the station itself, you may purchase passes and tickets for the same service, and you can use your metro ticket to travel to the central areas of Paris.
For journeys that extend outside Zone 1, the price of a ticket might range anywhere from 1.90 euros to more than 12.0 euros, depending on the station.
Via Boat 🚤
Travel through the Seine in a boat using the Batobus, which operates in both directions along the river and makes nine stops.
These include all of the most famous monuments in the city, such as the Champs Elysées, the Louvre, the Eiffel Tower, the Musée d'Orsay, the Hotel de Ville, and Notre Dame, among others.
A pass that is valid for one-day costs €17-19, but a permit that is valid for two consecutive days costs €19-20( Source)
Top-Notch Romantic Places To Visit On Your Honeymoon In Paris
Temple Of Love❤️‍🩹
The Temple of Love is perched on a teeny-tiny island formed by two forks in the river and is tucked away in the midst of the breathtaking splendour that is the field of Versailles. When the morning light hits the marbled building at just the right angle, it sparkles like a diamond.
This location is one of the more eccentric and romantic spots to visit in Paris, among all of the attractions that are available.
Many married couples from different parts of the world come to this location to recommit themselves to one another and deepen their relationships.
Location: Parc du Chateau de Versailles, 78000, Versailles France
📍Eiffel Tower
Eiffel Tower Tour with Reserved Entrance and Optional SummiT
The Eiffel Tower is often considered one of the most romantic spots to visit in Paris. Over the course of its history, it has played host to a great number of marriage proposals, first kisses, and public vows of love.
Visitors will be able to look over the tops of many notable structures and monuments in Paris if they ascend to the very top of this Parisian splendour, which will provide them with a panoramic perspective of the city below them as they do so.
Every night, the Iron Lady shines with 20,000 gold lights and provides visitors with a one-of-a-kind experience as well as an unparalleled opportunity for romance. Indulging in a glass of pink Champagne at the Champagne Bar on the top level is another way that lovebirds can stoke the fires of their devotion for one another.
There is also a nice dining location at the very top that makes a breathtaking canvas for couples who like to indulge in delectable food while taking in the expansive view.
Location: Champ de Mars, 5 Avenue Anatole France, 75007 -Paris, France
Things to do at Eiffel Tower for couples
📍Luxembourg Gardens
The Luxembourg Gardens, which were established in 1612, continue to exude an air that is undoubtedly royal and majestic, and they are often regarded as one of the most romantic sites to visit in Paris.
It has a really romantic ambience, making it the perfect setting for a nice date, and it is the excellent site to begin the date.
The park exudes a sense of calmness and provides a respite from the bustling metropolitan scene of Paris. It is dotted with massive fountains, orchids, and aesthetically pleasing statues.
Location: Rue de Médicis Rue de Vaugirard, 75006 Paris France
❤️‍🩹The Louvre
People often say that the Louvre is both the most beautiful and the biggest museum in the world. It is located on the bank of the Seine.
Due to the fact that it is located in the very heart of the city, the Louvre is frequently cited as one of the most romantic spots in all of Paris.
The museum boasts an incredible art collection that is completely dedicated to love, and it also offers a cosy environment in which you and your significant other can whisper sweet nothings to one another.
Location: Rue de Rivoli, 75001 Paris, France
❤️‍🩹Wall of 'I Love Yous'
What could possibly be more romantic than the wall of "I Love Yous" in the so-called "City of Love"?
This wall in Paris is called Le Mur Des Je T'aime, and it features the words "I Love You" written in more than 250 different languages.
Even if there are no words to describe love, this wall will provide you with 250 different ways to express your feelings for your significant other.
It was Frederic Baron and Claire Kito who came up with the idea, and it has since become a well-known hangout for couples in love.
During your honeymoon in Paris in February, you really must make time to visit this establishment.
Location: The wall is located in Square Jehan Rictus which is just a minute away from the station. Get down at Abbesses metro station to reach this place.
❤️‍🩹Arc de Triomphe
In 1836, the Arc de Triomphe was dedicated as a memorial to the members of the French armed forces who had given their lives in service of their country during the wars of the French Revolution and the Napoleonic Wars.
On the walls of this triumphal arch are etched the names of the heroes who paid the ultimate price for their cause.
In addition, there is a burial of an unidentified World War I soldier that may be found at the base of the arch.
Every night at sunset, a new member is added to the flame of recollection in honour of all the valiant individuals who gave their lives for the cause of France.
It is one of the most well-known memorial monuments in the world and was styled in a neo-classical manner when it was designed.
In addition, if you make your way to the terrace at the top of the arch, you'll get a breathtaking perspective of the city. It is interesting to note that the Arc de Triomphe also serves as the focal point of a dodecagonal arrangement consisting of twelve avenues that radiate outward to form a star (étoile).
Location: Place Charles de Gaulle, 75008 Paris, France
💖Romantic Things To Do On Your Honeymoon In Paris
Discover things to do in Paris. Save on activities + Reserve Now and Pay Later
Strolling along the Seine River is one of the most popular things to do in Paris, and for good reason.
The Seine River is one of the most beautiful rivers in the world.
Take a stroll with your significant other along the banks of the Seine River, where you will be treated to breathtaking views of the setting sun and stunning lights.
This will be the most romantic private moment you will ever have. In addition, you have the option of taking a cruise down the river, which will allow you to view the city from a different perspective.
Reserve Now & Pay Later on all Viator tours. Secure your spot whilst keeping your plans flexible
Bateaux Parisens VIP Dinner Cruise
This incredibly romantic activity, as well as all of the lovely things that it will bring into your life, comes highly recommended by us.
It's possible that you've just found the most romantic way to spend an evening in Paris: a tranquil, two-and-a-half-hour cruise along the world's most picturesque river path.
One further advantage is the provision of a traditional, multi-course dinner in French style, which is comprised of the meal's inclusion.
Participate in a wine tasting: Paris is home to a vast number of well-known wineries; thus, you and your significant other should make every effort to participate in a wine tasting so that you can learn more about the traditional methods.
You may also go to the wineries, which will allow you to generate some wonderful memories while exploring the area.
Horse & Carriage Ride Autour Paris
During the exciting ride in the horse-drawn carriage, the happy couple toasted each other with glasses of champagne.
Yes, you are able to carry out such an activity in Paris, and the planning involved is surprisingly uncomplicated.
The ninety-minute journey on the Royal Champagne comes highly recommended, and there are multiple departure times available throughout the day. À votre santé!
Pay a Visit to the Temple of Love The Temple of Love is one of the most popular tourist destinations for married couples in Paris.
The gorgeous gardens, flowers, and fountains that surround this stunning temple are sure to enchant you and make you feel as though you are in a fairy tale.
You and your spouse may travel here to reaffirm your commitment to one another and to spend the rest of their lives together in bliss.
Painting Couple Portraits: Or get a perosonalized Photoshoot in Paris
To bring back some beautiful memories from the city of love, you can pay a good painter to make you a beautiful couple portrait with some iconic structures, such as the Eiffel Tower or the Louvre Museum, serving as the backdrop.
In this way, you can bring back some of the city's romance with you.
Watch The Twinkling Lights Of The Eiffel Tower –
When the sun goes down, Paris comes alive with light, and the Eiffel Tower adds to the city's allure by lighting up at the top of each hour all through the night. Holding hands with the person you care about, let yourself to be swept away by the glimmering lights of Paris' most famous landmark.
You can choose to make it a stopping sight while you explore the charming streets of Paris, or you can climb up to the top of the Arc de Triomphe for absolute satisfaction while taking in the views of the entire city at the same time.
Shop shop until you drop
Spend some time on or near the Avenue des Champs-Élysées in France if you want to indulge on Louis Vuitton or Cartier merchandise while you are there. In the meantime, the quainter and cosier Saint-Germain-des-Prés neighbourhood is well-known for its fashionable boutiques that have a more bohemian vibe to them.
In addition to modern art, the district of Le Marais is teeming with well-known fashion brands, quaint bookstores, and charming vintage clothing shops.
Purchase Some Tickets for the Moulin Rouge!!
This legendary cabaret, which is located close to Montmartre, is recognised for its glamour as well as its enticing music and dance.
However, it is not appropriate for all honeymooners. It was first performed in the late 1800s, and it now features sixty female performers who wear a total of one thousand outfits that are embellished with rhinestones, sequins, and feathers.
Romantic Eat-Outs for Couples in Paris
Where can a couple get a good meal in Paris that is romantic and memorable?
Verjus: Verjus is one of the most couple-friendly locations to visit in Paris, and it offers a wonderfully appealing decor.
If you're in Paris with your significant other, you should check it out.
Delicious soups, sandwiches, and a wide variety of other well-known French and British cuisine can be found at this restaurant.
Restaurant Lasserre: If you want to experience one of the most traditional and romantic dinners in Paris at one of the top tourist destinations in the city for couples, then you should most definitely go to the Restaurant Lasserre.
Your romantic dinner date in the city of love will have the ideal atmosphere thanks to the dim lighting, melodic tunes, historic building, and traditional delicacies that will be served.
Septime: Septime is one of the best locations to visit in Paris for couples who are going on a romantic dinner date. The restaurant offers an outstanding dining experience and is known for its warmth.
You can indulge in a variety of mouthwatering specialities, such as the fish and potato meals, the panna cotta dishes, and many more.
NoLita: This restaurant, which boasts one of the most breathtaking views of the Eiffel Tower in all of Paris, is widely regarded as one of the most romantic spots in the city.
This restaurant is ideal for your romantic dinner date because it serves a selection of delectable Italian and French food and has a stunning view.
Le Jules Verne: One of the most elegant and romantic spots in Paris for couples, Le Jules Verne offers views of the Eiffel Tower that cannot be equalled by any other location in the city.
This restaurant's reputation has been built on its "chef special supper," which always brings in a lot of people.
Romantic Places To Stay For Honeymoon In Paris
Le Cinq Codet – 5-Star Art Moderne( Booking.com)
Hotel d'Aubusson – 4 Stars in Saint-Germain
Shangri-La Paris – The Perfect Paris Palace
Most Popular Latin Quarter Hotels
Les Plus Beaux Romantic Hotels in Paris
FAQs

What exactly is it that Paris is famous for?
The Eiffel Tower, which can be seen in Paris, is a well-known landmark that exemplifies the city's renown in the eyes of people all over the world.
Aside from that, Paris is famous for a wide variety of things, including its picture-perfect landscapes, breathtaking architecture, world-class museums, passionate romance, beautiful cafes, and timelessly chic fashion.
Which of these activities in Paris do you think is the most romantic?
It's possible that popping the question to your significant other atop the iconic Eiffel Tower is the most romantic thing that can be done in the City of Lights.
Get down on one knee to propose a love that will last a lifetime, and do it in a manner that is quintessentially French.

Is Paris a nice place for couples to vacation?
Couples who are madly in love with one another will find that Paris, which is commonly known as the "city of love," is the ideal vacation destination for them.
Beginning with jaw-droppingly attractive attractions and progressing to pleasantly balmy weather, Paris conjures up the ideal environment in which to engage in some exquisite romance.
About the Author: Div Acharya
Div is an entrepreneur, influencer, blogger, marketer, & fashionista. Div loves Blogging about Lifestyle, Fashion, Style, Travel, Gift Ideas, Home decor Finds and house-buying tips and hacks from her own experience. Hence, Div wants to share her joy and interests with as many people as she can.