Downtown Disney Paris: The Ultimate Guide to Your Magical Experience
Welcome to the magical world of Downtown Disney Paris, where enchantment meets thrilling entertainment, delectable dining, and exceptional shopping experiences.
Yes, Downtown Disney exists in Paris, and, like in California, it is conveniently placed outside the gates of the two theme parks.
🎐👉🏻Check out our latest and in-depth  Comprehensive Disneyland Paris Travel GUIDE- 💡Plan Your DISNEYLAND PARIS: TIPS and HACKS FOR A FANTASTIC EXPERIENCE . More Disneyland Blogs
However, it is not between the two parks. Instead, it functions as a buffer zone between the railroad station that serves Paris and France and the hotels located at the resortes.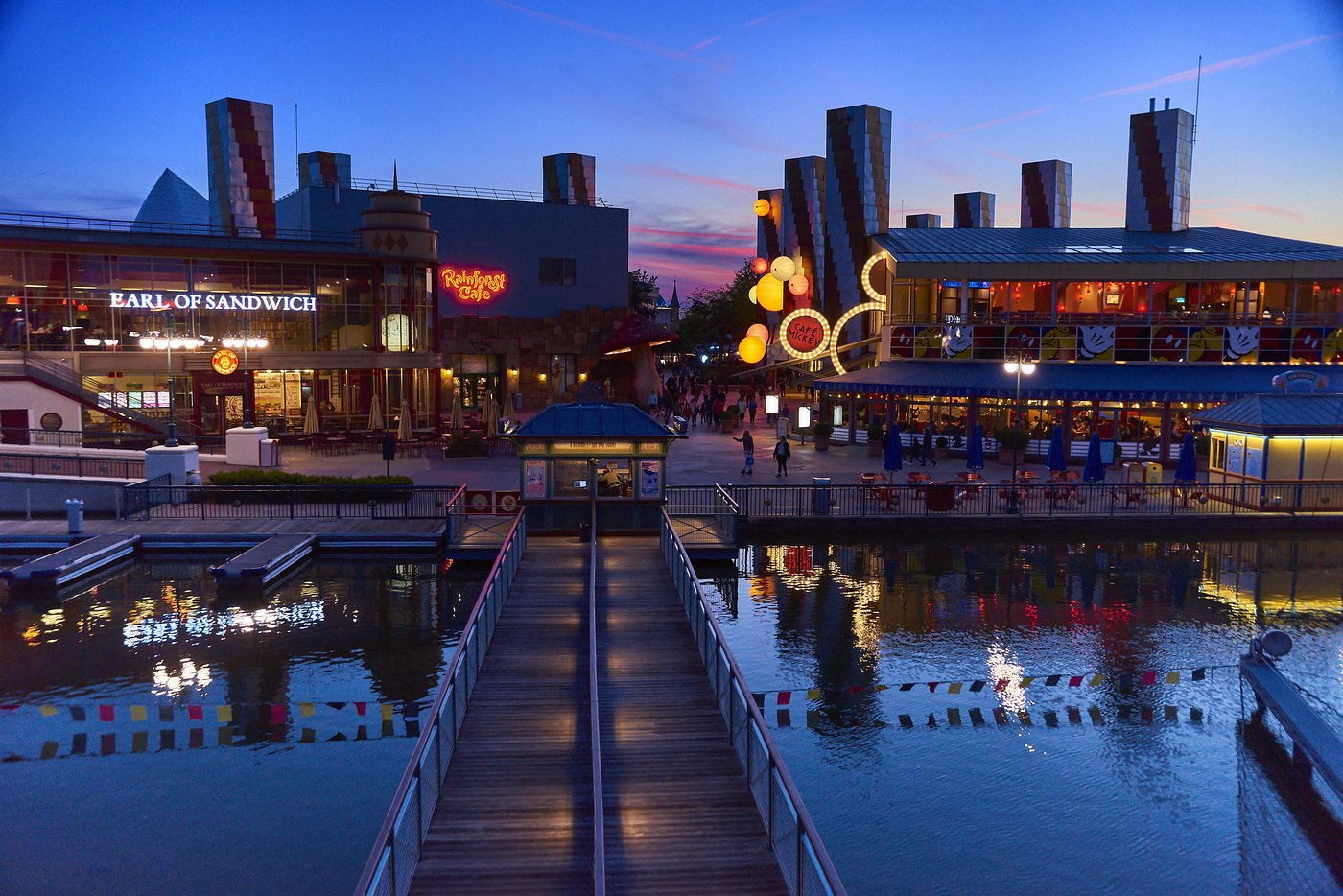 This comprehensive guide will provide you with everything you need to know about this vibrant entertainment district and help you plan the ultimate visit. Let's dive into the mesmerizing world of Downtown Disney Paris!
Downtown Disney Paris
Downtown Disney Paris, also known as Disney Village, is a bustling entertainment and shopping district located just outside the gates of Disneyland Park and Walt Disney Studios Park. It boasts a wide range of attractions, dining establishments, and shops, making it the perfect destination for families, couples, and friends alike.
How to Get to Downtown Disney Paris
Reaching Downtown Disney Paris is a breeze, as it is conveniently connected to various transportation options, including:
Shuttle Service: Many hotels around Disneyland Paris offer shuttle services to and from the parks and Downtown Disney Paris.
RER Train: The RER A train connects central Paris to Marne-la-Vallée/Chessy station, which is just a short walk from Downtown Disney Paris.
TGV: High-speed TGV trains also stop at the Marne-la-Vallée/Chessy station, providing quick access to Downtown Disney Paris.
Car: If you prefer driving, you can use the A4 motorway, which leads directly to the Disney resort area.
Must-Visit Attractions in Downtown Disney Paris
Downtown Disney Paris is home to several exciting attractions that cater to a diverse range of interests. Some of the must-visit attractions include:
Disneyland Paris Hot Air Balloon: Soar high above the resort in the "PanoraMagique" hot air balloon for a breathtaking bird's-eye view.
World of Disney Store: Discover a vast array of Disney merchandise, including collectibles, apparel, toys, and souvenirs.
Gaumont Disney Village: Catch the latest blockbuster films in this state-of-the-art movie theater complex.
Buffalo Bill's Wild West Show: Enjoy a thrilling dinner show featuring Buffalo Bill, Mickey Mouse, and their friends in a Wild West adventure.
Delectable Dining Options
Downtown Disney Paris boasts a variety of dining options to satisfy your taste buds, including:
Annette's Diner: Relive the 1950s American diner experience with burgers, milkshakes, and a lively atmosphere.
Café Mickey: Dine alongside your favorite Disney characters in this charming restaurant offering Italian cuisine and a delightful ambiance.
Vapiano: Savor fresh Italian dishes, including pasta, pizza, and salads, in a relaxed setting.
Planet Hollywood: Enjoy a star-studded dining experience with a menu of American favorites surrounded by movie memorabilia.
Earl Sandwich: Whether you're planning for an upcoming meeting, party, corporate event, or luncheon, let Earl of Sandwich in Paris, France help make it an occasion to remember.
Unforgettable Nightlife
Downtown Disney Paris offers an array of nightlife options to keep the magic alive even after the parks have closed:
Billy Bob's Country Western Saloon: Dance the night away to live country music and indulge in Tex-Mex cuisine.
Sports Bar: Catch your favorite sports events on giant screens while enjoying a selection of beers and bar snacks.
King Ludwig's Castle: Immerse yourself in a Bavarian fairytale setting while sipping on German beers and savoring authentic dishes.
Shopping Paradise
Shopaholics will find a plethora of unique stores and boutiques to explore in Downtown Disney Paris, such as:
Disney Fashion: Stay on trend with the latest Disney-inspired apparel and accessories.
LEGO Store: Unleash your creativity with a wide range of LEGO sets and merchandise catering to all ages.
World of Toys: Discover a magical toy store filled with Disney-themed toys, games, and collectibles.
Ralph Lauren: Browse through a selection of stylish clothing and accessories from this iconic American brand.
Seasonal Events and Festivals
Downtown Disney Paris hosts various seasonal events and festivals throughout the year, adding a touch of extra magic to your visit:
New Year's Eve: Ring in the New Year with a spectacular fireworks display, live music, and festive atmosphere.
Halloween: Experience a spooktacular celebration with themed decorations, entertainment, and special treats.
Christmas: Immerse yourself in the holiday spirit with festive decorations, a seasonal market, and heartwarming entertainment.
Nearby Accommodations
There are several hotels in close proximity to Downtown Disney Paris, providing convenient lodging options for your stay:
Disneyland Hotel: Experience the ultimate Disney luxury at this Victorian-style hotel situated at the entrance of Disneyland Park.
Disney's Hotel New York: Enjoy the glamour of the Big Apple at this Art Deco-inspired hotel, just a short walk from Downtown Disney Paris.
Disney's Newport Bay Club: Stay at this elegant, nautical-themed hotel overlooking the beautiful Lake Disney.
Tips for Your Visit to Downtown Disney Paris
To make the most of your Downtown Disney Paris experience, keep these helpful tips in mind:
Plan Ahead: Research the attractions, dining options, and events you'd like to experience during your visit.
Arrive Early: Downtown Disney Paris can get quite busy, especially during peak seasons. Arriving early allows you to beat the crowds and enjoy a more leisurely experience.
Dress Appropriately: Comfortable footwear is essential, as you'll be walking throughout the district. Additionally, check the weather forecast and dress accordingly.
Combining Your Visit with Disneyland Paris
Maximize the magic of your visit by combining your Downtown Disney Paris experience with a trip to Disneyland Paris, which consists of two theme parks:
Disneyland Park and Walt Disney Studios Park. Plan your visit using the Disneyland Paris app, which provides useful information on wait times, show schedules, and dining reservations.
WrapUp Note
Downtown Disney Paris, or Disney Village, offers a one-of-a-kind entertainment, dining, and shopping experience that is sure to create unforgettable memories for you and your loved ones. With so many exciting attractions, mouthwatering cuisine, and unique shopping options, there's something for everyone at this enchanting destination. Be sure to follow the tips and recommendations provided in this guide to make the most of your Downtown Disney Paris adventure. Happy exploring!
About the Author: Div Acharya
Div is an entrepreneur, influencer, blogger, and marketer, As a travel blogger, Div had the opportunity to visit some of the world's most incredible locations.
From the bustling streets of Sydney, and the fashionable streets of Paris, to the pristine beaches of the Sunshine Coast. I've had the opportunity to immerse myself in different cultures, meet fascinating people, and try new things.
One of the things I love most about being a travel author is being able to share my experiences with others. Travel has taught me so much about the world and myself, and I feel grateful to be able to share those lessons with others through my work.