serviced apartments paris
This post contains affiliate links, which means we'll receive a commission if you purchase through our links, at no extra cost to you. Read the disclosure here.
Are you planning to stay in Paris for a long time and looking for a place to stay that is both cheap and comfortable?
As someone who has spent a significant amount of time in Paris, I can attest to the fact that it may be a great problem to locate a long-term rental that is priced cheaply.
On the other hand, serviced apartments are a fantastic alternative that provide the ease of a hotel while also providing the cosiness of a private residence.
In this article, I'll be giving my top selections for the most reasonably priced serviced apartments in Paris that are suitable for extended visits.
These apartments are ideal for business travellers. Kitchens, living areas, and bedrooms are all included in these apartments, along with everything else that's necessary to make you feel like you're in your own home.
These reasonably priced serviced apartments in Paris will provide you with the ideal home away from home, regardless of whether you are a student, a working professional, or travelling with your family.
What are the Most Affordable serviced apartments in Paris for LONG Stay
11 + Most Affordable serviced apartments Paris for LONG Stay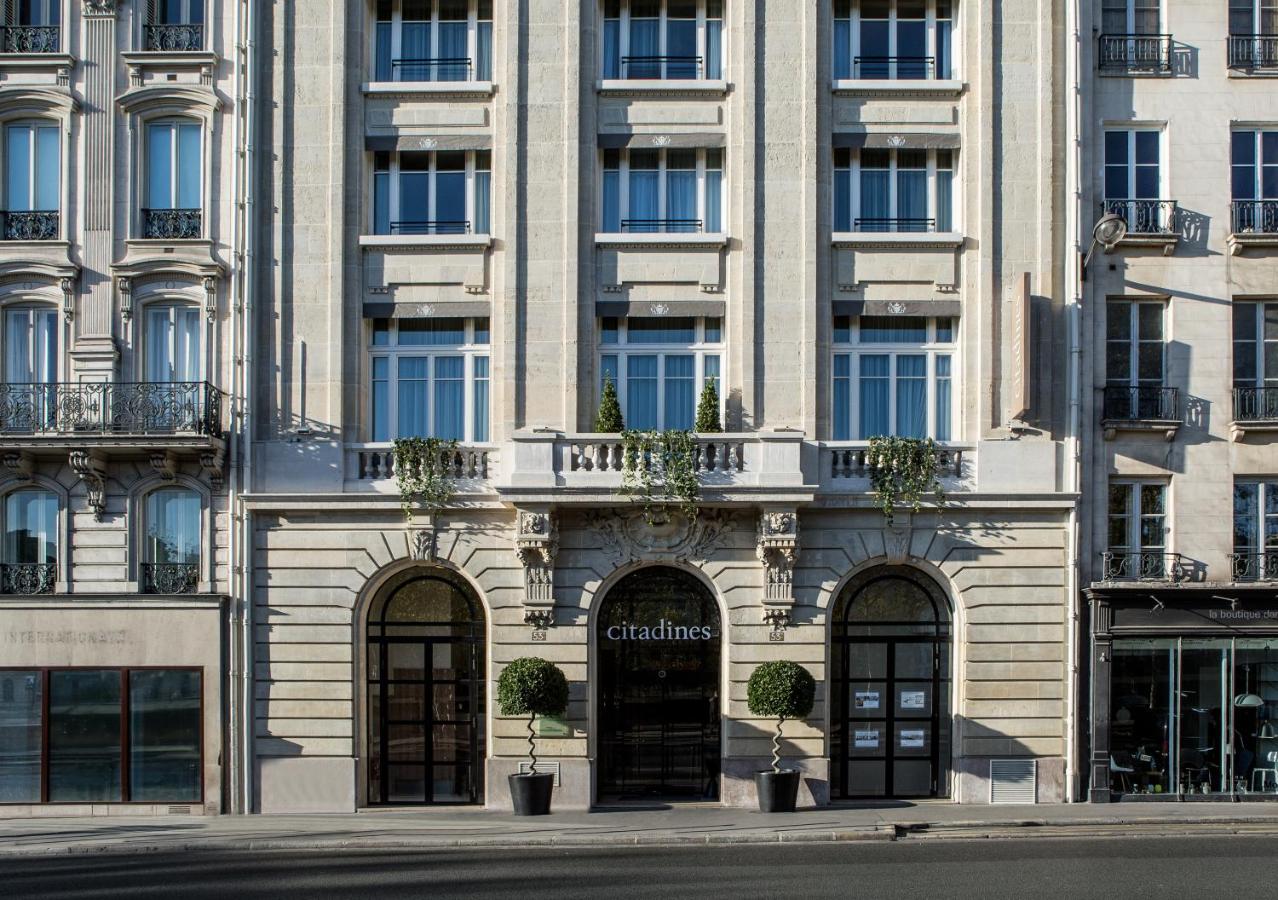 ⭐️ Rating & Reviews: 8.1/10 V.Good   |📍 Location: Paris  | 🏨View on Booking.com
Citadines Saint-Germain-des-Prés Paris is in the middle of Paris, about 10 minutes on foot from Notre Dame Cathedral and 300 meters from the Saint-Michel Metro Station. It has a fitness room and Wi-Fi that is free to use.
This building has studios and apartments that are all air-conditioned and come with satellite TV and a lift. Bed sheets are given. There is also a private bathroom with a tub and a hairdryer.
For an extra fee, you can get a continental breakfast every day. Each studio or apartment has a kitchenette with a microwave, a fridge, and a toaster. There are restaurants and cafes within 300 meters of the property.
The Luxembourg Gardens and the Pantheon are both a 15-minute walk from this home. The Louvre Museum is only 600 m away, and you can park right there.
"great apartment In great location. Hot drinks available all day for no extra charge, if wanted."

Michelle Australia ( Read More Reviews)
---
---
⭐️ Rating & Reviews: 7.2/10 Good  |📍 Location: Paris  | 🏨View on Booking.com
The Eiffel Tower is a 15-minute walk from Aparthotel Adagio Paris, which has a 24-hour front desk, air-conditioned studios, and free fiber-optic WiFi everywhere.
Note: Some apartments have great views of Paris and the Eiffel Tower from all sides. Guests can use the fitness centre and indoor pool if they are available at the time of their stayAsk for Eiffel tower view Room while Booking, You'd get it if there is an Availability for your travel dates.🏨View & Book on Booking.com
This aparthotel has studios and apartments that all have full kitchens with a stove, microwave, fridge, and dishwasher.
The apartment has a place to eat and a place to sit with furniture that can be moved and an LCD TV. There is a lift at the apart-hotel.
In your apartment, you can make your own breakfast from scratch. Or, if you'd rather, you can pay extra for a buffet breakfast that is served every morning in the breakfast room. Children between the ages of 4 and 11 can go for a lower price. 🏨View & Book on Booking.com
Friendly helpful staff, amazing views of Eiffel Tower

"Great location and great view of the Eiffel Tower. loved having lots of windows. staff friendly. loved coat hooks by the door!!!

Sarah New Zealand (Read More Reviews)
---
---
⭐️ Rating & Reviews: 7.6/10 Good |📍 Location: Paris  | 🏨View on Booking.com
Residhome Paris Opéra is in the middle of Paris, 400 meters from Opera Garnier and 350 meters from the famous Galeries Lafayette.
The Saint-Lazare Metro Station is 400 m away. It goes straight to the Porte de Versailles Exhibition Center.
Each air-conditioned studio or apartment has free WiFi and a flat-screen TV. Each room has a kitchenette with a dishwasher, a microwave, and tools for making tea and coffee. There are slippers and a hairdryer in the bathroom.
This Residhome has good places to store things. It has light wood floors and modern, neutral decor.
"Location a short walk from Gare St Lazare, Opera, Avenue Haussman. Mono prix and bakery close by if you want to use apartment kitchen."

Patricia Ireland ( Read More Reviews)
---
---
⭐️ Rating & Reviews: 7.8/10 Good  |📍 Location: Paris  | 🏨View on Booking.com
The Séjours & Affaires Paris Bagneux Aparthotel is in Bagneux, just 100 meters from the Bagneux train station, which goes straight to the center of Paris. The property has a fitness room that guests can use for free and self-catering rooms with free WiFi.
Apartments and studios have a lift, a flat-screen TV, a desk, and a private bathroom with a bath or shower. There is also a telephone.
Each type of room has a kitchenette with a stove, a fridge, and a microwave. There is also an electric kettle, and vending machines with snacks and drinks are near the front desk. Every morning, breakfast is served at Séjours & Affaires Paris Bagneux.
Clean & well Equipped!

"Everything. Clean and very well equipped. Confortable bed. Bagneux metro station very near to the hotel."

Feedback from Jose ,Spain

José Spain ( Read More Reviews)
---
---
⭐️ Rating & Reviews: 7.1/10 Good  |📍 Location: Paris  | 🏨View on Booking.com
The Cité des Sciences de La Villette is a 5-minute walk from the Appart'City Paris, and the Zénith is a 10-minute walk away.
All of the apartments are well-equipped and have a living room, a place to work, and a satellite TV. They also have a bathroom and a kitchen with a refrigerator, stovetops, and a microwave.
At breakfast, there are different kinds of bread, including gluten-free bread, pastries, and both cold and hot drinks. There is also fresh fruit and fruit salad, as well as cheeses and yogurts.
Great value, great area, full kitchen and friendly staff.

I love this place. I love the area and the staff is wonderful. I came back to stay for the second time and plan to come back.

Nicole United States ( read More Reviews)
---
---
⭐️ Rating & Reviews:7.7/10 Good  |📍 Location: Paris  | 🏨View on Booking.com
Pierre & Vacances is on the northern tip of Fuerteventura Island, 2 km from the sea. It has a water play area, several restaurants and bars, and sports facilities.
The resort has a pool for adults only and the Craterpark, which is a water park. There are tennis courts, paddle tennis courts, boules courts, and an 18-hole mini golf course.
Each villa has its own terrace and a flat-screen satellite TV. They are all air-conditioned. The kitchen has an oven, a ceramic stovetop, a dishwasher, and a coffee machine. The bathroom has a bath or a shower.
Pierre & Vacances also has a lot of free activities for kids ages 4 to 17, as well as extras that everyone can pay for, like sports tournaments and cooking shows. There is a small store right there.
kids club exceed our expectations

"Accommodation was exceptional, kids club exceed our expectations, all staff were real professionals when dealing with my 8yo. He made brilliant friends through kids club."

Dominika Ireland ( Read More Reviews)
---
⭐️ Rating & Reviews: 7.4 /10 Good  |📍 Location: Paris  | 🏨View on Booking.com
The eco-friendly studios at Aparthotel Adagio Access Paris Clichy are 8 km from Paris and the business district of La Défense. It has a front desk that is open 24 hours a day, and each studio has free Wi-Fi and an LCD TV.
Each air-conditioned studio is done up in a modern style and has a kitchen with a microwave and a fridge. The private bathrooms have a shower, and there is a hairdryer at the front desk.
This place makes a breakfast buffet every morning, which is served in the breakfast room. It has cereal, hot drinks, and baked goods. Nearby, you can find grocery stores, bars, and restaurants.
Very good

Spacious sleeping room and bathroom with air conditioning. Room well equipped with necessary items in the kitchen to be able to prepare meals. Elevators worked well. Available underground parking with easy access. Friendly and helpful hotel personnel.

Marcin Poland ( Read More Reviews)
---
⭐️ Rating & Reviews: 7.9/10 V.Good  |📍 Location: Paris  | 🏨View on Agoda.com
Wi-Fi and parking are always free, so you can stay in touch and come and go whenever you want. Placed in a good spot in the 13th, Place d'Italie, you can easily get to local attractions and sights.
Don't leave Paris until you've seen the Eiffel Tower. As an added bonus, there is a fitness center on-site to meet your needs quickly.
Very good

Location was not as accessible as I thought it would be but that was just my assumption. I was absolutely impressed on how clean the place is- it was spotless beyond my expectation. Its cleanliness made my stay so comfy and relaxing.

Robert 🇵🇭 Philippines( Read More Reviews)
---
⭐️ Rating & Reviews: 9.1/10 V Good  |📍 Location: Paris  | 🏨View on Booking.com
The Résidence Charles Floquet is in the middle of Paris, just 50 meters from the Eiffel Tower and 20 minutes on foot from the Army Museum. It is in a renovated old building and has large self-catering rooms with views of the Eiffel Tower.
The apartments at the Résidence Charles Floquet are decorated in an elegant style. They have balconies, high ceilings, and fireplaces. After a long day of sightseeing and shopping, you can relax with free Wi-Fi, satellite TV, and a Blu-Ray player.
The apartments are fully furnished so that each guest can live on their own. The kitchens are well-equipped with a dishwasher, coffee machine, and toaster. You can ask for a breakfast kit that has fresh bread, French pastries, orange juice, and fresh milk.
Recommended if you want to stay around Eiffel Tower

Great location, big space, comfy, and of course the Eiffel tower view!

Bee Malaysia ( Read More Reviews)
---
More to go…
---
Why choose Booking.com for your next Hotel Booking
Booking.com is an all-encompassing travel site that can assist you in finding the most suitable rooms to meet your requirements.
They give options for getting to your hotel and information on what to do once you get there. In addition, they provide transportation options.
Even while Booking.com is a one-stop shop for travel, you should still look around at several websites to ensure that you are receiving the best possible price.
Be sure to get the ideal packing list so that you can pack efficiently while still looking good for both him and her.
---
Why choose TripAdvisor to Book your Vacation?
The goal of Tripadvisor is to assist individuals all over the world in the planning and execution of the ideal vacation.
TripAdvisor has become our go-to destination for praising, criticizing, and purchasing our way across the world's inhabited places.
It is, at its heart, a Kind of guestbook, which is a place where visitors write the highlights and lowlights of their vacation experiences for the benefit of the hotel's owners and potential future guests.
However, this guestbook may be found on the internet, where its contributors continue to provide travel tips, anecdotes, and gripes about their trips long after they have returned from their trips.
A total of 456 million individuals, or almost one in every 16 persons on the planet, visit some portion of TripAdvisor.com each month in order to either plan or evaluate a vacation. There is a page that corresponds to practically every location that can be found.
According to the findings of a recent international research, over three quarters of consumers (70 percent) said they use TripAdvisor because of its detailed and useful reviews, regardless of whether they like the website or not.


Book your next Holidays from TripAdvisor
Div is an entrepreneur, influencer, blogger, marketer, & fashionista.
Div loves Blogging about Travel, Lifestyle, Fashion, Style, decor Gift Ideas, Home decor Finds from her own experience. Hence, Div wants to share her joy and interests with as many people as she can.
---