There are plenty of high-end outdoor furniture brands that offer beautiful pieces that will make your outdoor area look and feel like a million bucks, whether you have a large patio or a small balcony.
This post contains affiliate links, which means we'll receive a commission if you purchase through our links, at no extra cost to you. Read the disclosure here.

Summer is the best time of year to enjoy the great outdoors! And what better way to do so than with outdoor furniture from some of the most prestigious luxury brands?
Find here your personal preferences and design terms for materials like recyclable, natural, premium, etc.
Looking to create an oasis in your backyard or patio?
The best and most expensive outdoor furniture stores will provide you with everything you need to turn an ordinary open-air space into an alfresco fantasy.
We've compiled a list of the best stores that sell a wide range of outdoor furniture in a variety of styles—because why not have a piece of well-designed paradise in your own backyard? hers is the list of high end patio furniture brands
What is the Best High-End Patio Furniture Store to look for?
19 Best high-end outdoor furniture stores that will turn your Patio into a fancy paradise.
---
Industry West is an online furniture store that sells modern and industrial-modern furniture.
Their prices are more approachable than high-end retailers with comparable pieces, and they have a large selection of eye-catching designs that aren't found elsewhere.
Customers have generally positive feedback, with a few isolated complaints about returns and construction for lower-priced items. (Source)
More Info:
Overall Score: 9.1/10
Price Value: 8.9/10
Price: $150-$8950
Customer Satisfaction: 9.1/10
Perth Outdoor Lounge Chair from Industry West
Introduce sophistication to your outdoor space.
From lounging to snacking to hosting, the industry west Outdoor Lounge Chair will be your go-to seat for every sun-kissed moment
---
2.Heyneedle
Hayneedle, which has been in business since 2002, is an online home furnishings retailer that specialises in indoor and outdoor living.
Hayneedle is headquartered in Omaha, Nebraska, where they also have a photography studio and a customer service centre.
Their first-rate customer service centre assists customers by providing product information and assistance with space solutions.
The company sells products from over 3,000 brands, including their own, which emphasise designer features at a low price.
More Info:
Overall Score: 7.2/10
Price Value: 7.4/10
Price: $15-$6400+
Customer Satisfaction: 7.2/10
If you crave your very own relaxing space where you can curl up with a good book or just leisurely watch the world go by, the Jeco Wicker Porch Swing is just what the doctor ordered. 
Nourish your soul with the kind of vitamins only the outdoors can provide.
The Modway Vantage Wicker Hanging Swing Chair adds seating to your patio, deck, or den.
---
3.Ballard Designs
Ballard Designs is a well-known catalogue that sells furniture, home decor, lighting, and other household items.
Their styles range from traditional to contemporary, with prices ranging from mid-range to aspirational.
While most customers like the look of their products, there have been some complaints about durability, perceived quality, and delivery in some cases
More Info:
Overall Score: 7.5/10
Price Value: 7.3/10
Price: $21-$14500+
Customer Satisfaction: 7.4/10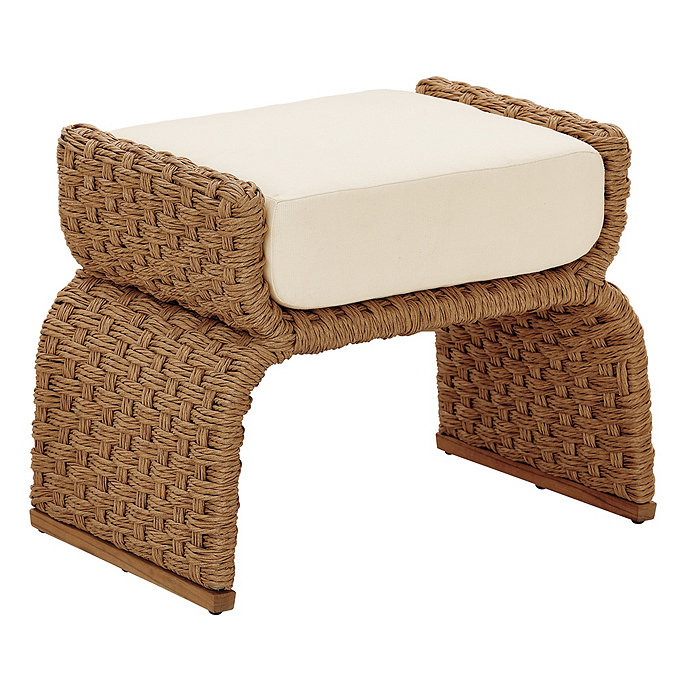 Cypress Stool– from Ballard Designs
To capture the natural look and texture of water hyacinth, beautifully proportioned Cypress outdoor furniture is hand woven in a basket weave of all-weather resin and exposed premium teak.
---
Cypress Lounge Chair with Cushions from Ballard Designs
To capture the natural look and texture of water hyacinth, this beautifully proportioned Cypress outdoor furniture is hand woven in a basket weave of all-weather resin over premium teak.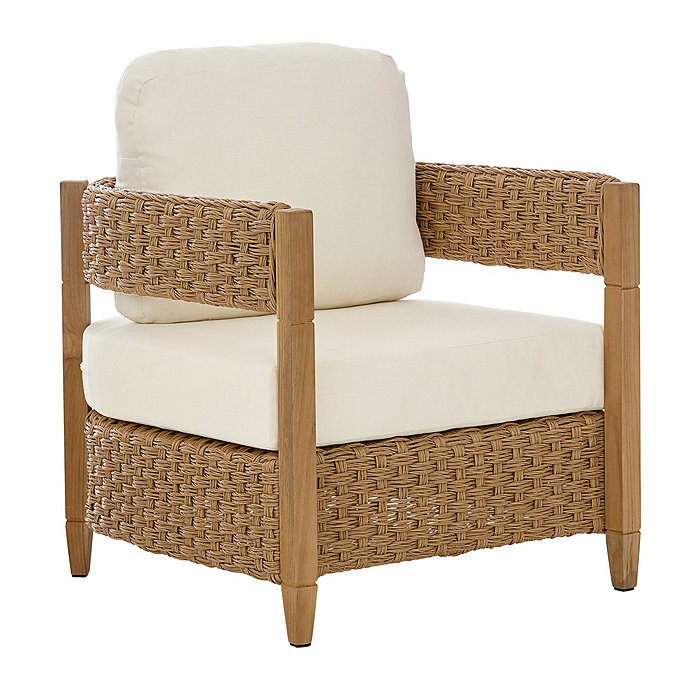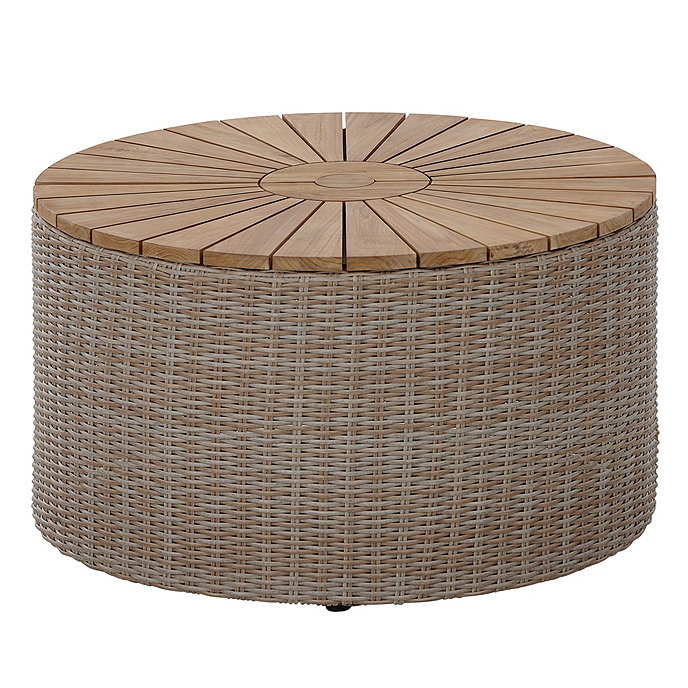 Navio Umbrella Table from Ballard designs
This stylish patio Outdoor Ottoman matches our popular Navio outdoor furniture collection.
This Navio Umbrella Table is constructed of durable all-weather wicker that has been washed grey and is tightly woven over two sturdy, rustproof aluminum demilune frames.
---
---
4.Ashley Home store
One of the most well-known names in discount furniture is Ashley Furniture, which also operates under the name Ashley Home store.
Customers have positive things to say about the prices, but they have mixed sentiments regarding the durability of the products, despite the fact that the company offers a large variety of options both online and in-store, which range from indoor furniture to home decor, as well as mattresses.
More Info
Overall Score: 7.5/10
Return Policy: 72 Hours If Damaged
Price Value: 7.9/10
Price: $50-$4400+
Customer Satisfaction: 7.4/10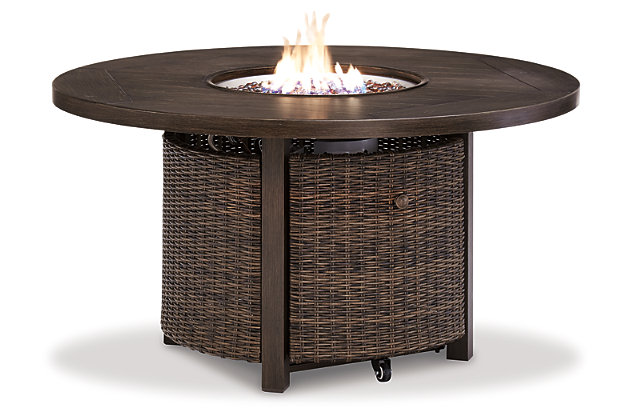 With the Paradise Trail outdoor fire pit table, you can make your backyard the envy of the neighbourhood.
This wooden-looking outdoor table, however, is actually constructed out of aluminium that is both weatherproof and strong, making it ideal for use in the great outdoors.
Resin wicker that is impervious to the elements and is handwoven into decorative side panels is a nice touch for this rustic-chic design.
---
It's the pinnacle of backyard luxury and convenience.
A more practical version of the wildly popular Original Dream Chair, the Original Dream Lounger is a must-have for any home.
The rounded legs give the large sofa bed a sense of stability, and the anti-fade spun-polyester upholstery keeps its colour over time.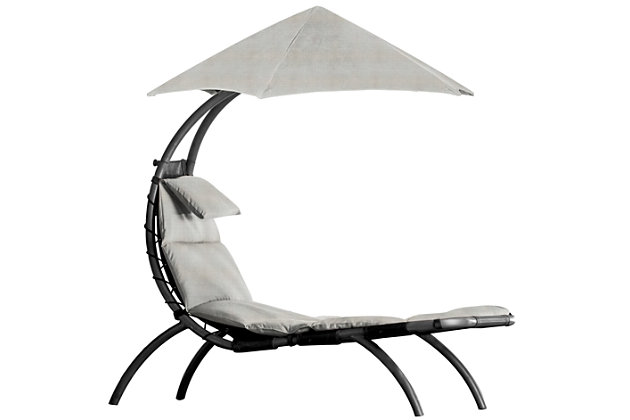 ---
5.Brook & Lou
Brook & Lou is an interior design company that was founded on the principle that classic style is timeless and entirely doable no matter how many kids, pets, or guests you welcome into your home on a regular basis.

Furniture, wallpaper, home decor, and unique pieces are just some of the things that Brooke & Lou creates and finds for their clients. .
Brook & Lou pledge to only feature products that they, personally, would have in their own homes, and that do so by combining cutting-edge technologies with eye-catching design.
More Info
Overall Score: 7.7/10
Return Policy: 36 Hours If Damaged
Price Value: 7.9/10
Price: $120-$7400+
Customer Satisfaction: 7.3/10
This made with mixed materials Dining table is one of the coolest additionsa to your backyard decor.
From the textured top to the natural teak base. This piece is sure to make a statement in your outdoor dining space.
---
Bring the outdoors in with the woven rattan Charlie Coffee Table.
A small-scale table that adapts to any small space, indoors or covered outdoor areas.
With its low profile, concave form, and pure white finish, Charlie can be styled as a coffee table or cleared for use as extra seating or a footrest.
---
---
Plow & Hearth is a catalogue and website selling rustic furniture and home accessories.
After making a name for themselves in the market for outdoor furniture and fireplace accessories, they have branched out into other areas.
Although most customers have positive feedback, some have voiced dissatisfaction over delivery issues.
More Info:
Overall Score: 8.5/10
Return Policy: 90 Days + Restrictions
Price Value: 8.6/10
Price: $50-$2500+
Customer Satisfaction: 8.4/10
This lovely & functional Eucalyptus Storage Box from P&H's Lancaster Outdoor Furniture Collection is crafted from FSC-certified eucalyptus.
This Wood Storage Box with lid opens up for loads of convenient storage.
Keep outdoor cushions, pillow, garden tools, yard toys and more within this box.
7. Macy's
Macy's is well-known for selling high-quality goods at affordable prices.
They have one of the largest selections of furniture, with over a hundred thousand items spanning categories like living, dining, sleeping, and outdoor.
The majority of buyers agree that the products are reasonably priced and fashionable.
Nonetheless, there were varying opinions on the products' value, longevity, and shipping experiences.
More Info:
Overall Score: 8.7/10
Return Policy: 30 Days + 15% Fee
Price Value: 8.6/10
Price: $40-$9050+
Customer Satisfaction: 8.6/10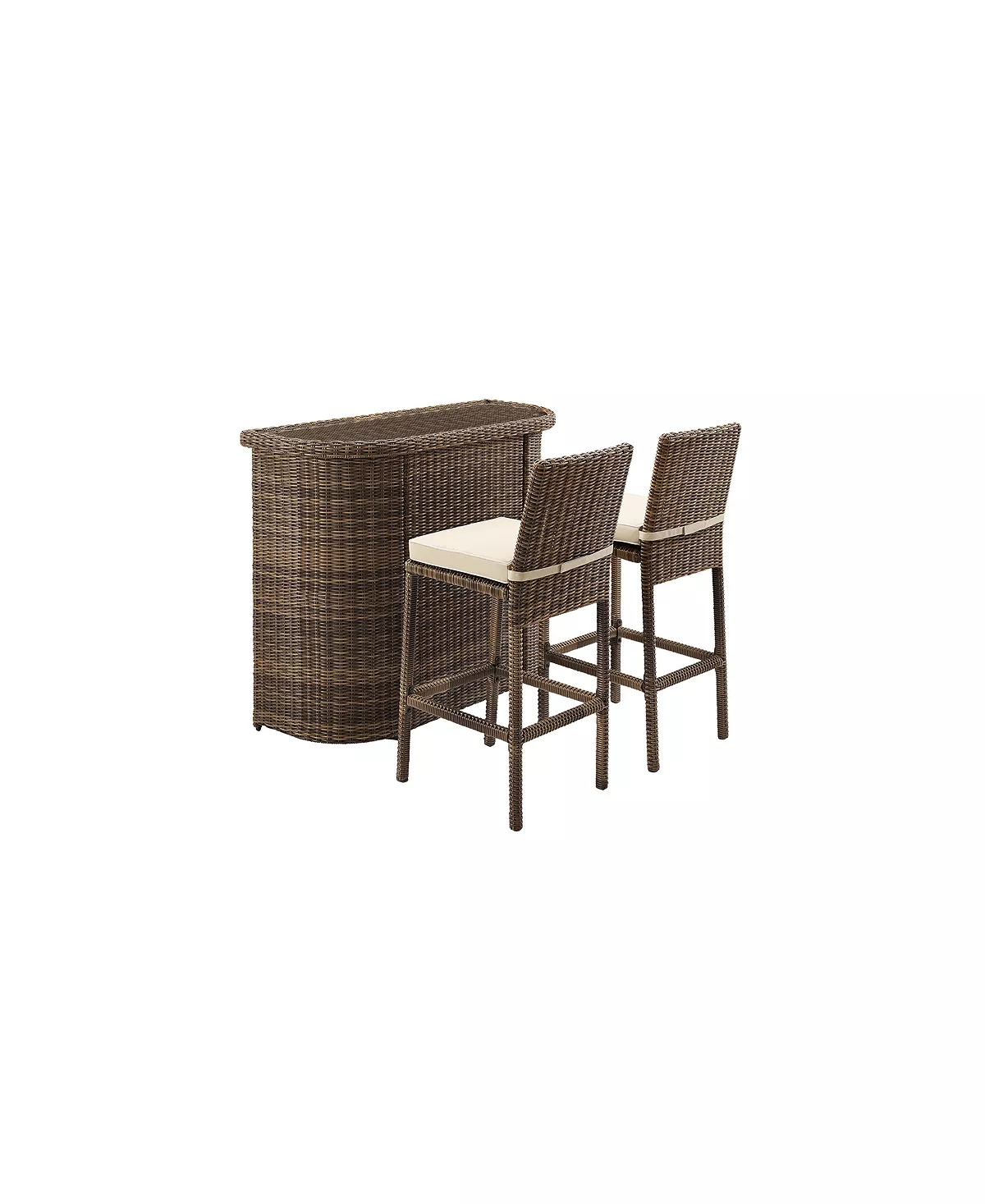 Spend warm summer days and balmy summer nights in luxury with the 3 piece Bradenton wicker bar set from crosley.
All-weather wicker and 3 choices of UV-resistant fabric cushions combine elegant lines with casual comfort in one versatile design with dozens of possibilities.
This Wood composition Outdoor dining table offers durable resilience for continual outdoor use.
For extra convenience, insert an umbrella in the center hole for sunlight shade and protection.
When it comes to basic outdoor furnishing, this picnic table is what every outdoor area calls for to dine in warm outdoor weather.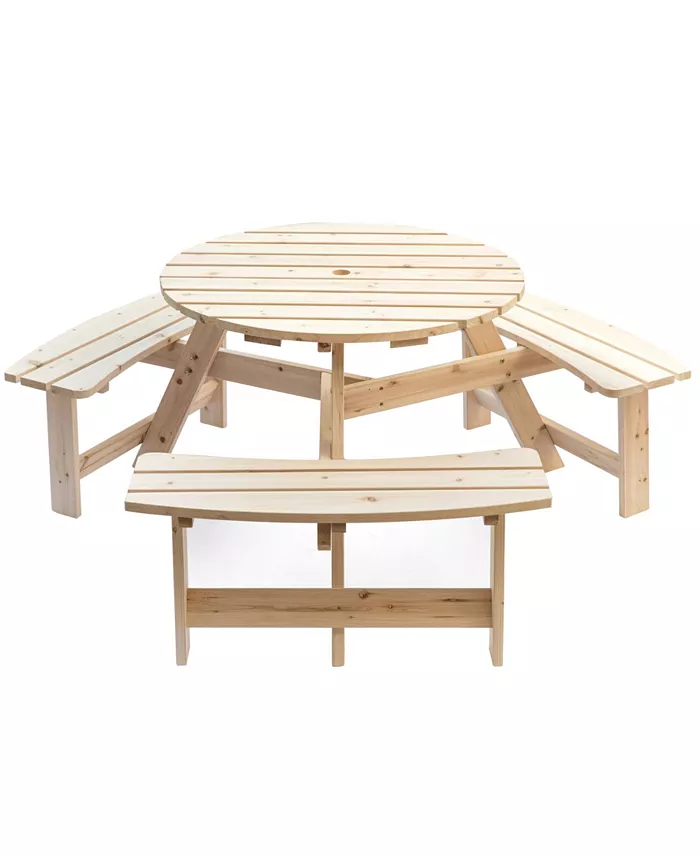 8. Crate & Barrel
Crate & Barrel is a household name in the world of home furnishings, and a staple of upscale shopping areas everywhere.
Their furniture, home essentials, and home decoration all range in price from reasonable to enviable.
Customers generally approve of Crate & Barrel's styles and broader selection, but there have been a few nitpicks about the store's durability and shipping practises.
More Info:
Overall Score: 8.5/10
Return Policy: 7 Days + Fe
Price Value: 8.4/10
Price: $10-$5900+
Customer Satisfaction: 8.6/10
---
CB2 is Crate & Barrel's less expensive furniture and home brand, with an emphasis on their online store.
With 19 store locations, their products are frequently much more affordable than Crate & Barrel, while still featuring updated, contemporary styles that complement modern homes.
Most customers are pleased with CB2's selection, but there have been some complaints about durability and delivery.
More Info:
Overall Score: 7.9/10
Return Policy: 7 Days
Price Value: 7.6/10
Price: $180-$4000
Customer Satisfaction: 7.8/10
FAQs
What to Look for in Luxury Outdoor Furniture Manufacturers

Fortunately, we are here to assist you in locating the best summer classics and luxury brands for outdoor furniture for your own personal space.
We have everything from top designers; indoor furniture, outdoor furniture, and even garden furniture!
To assist you in your shopping, we have compiled a list of the best outdoor furniture brands.
We can shop with online retailers and industry leaders or go to a local outdoor furniture market, avoid unusual traffic, and spice up your patio today!
You'll find a variety of luxury brands throughout this article, including the big brands Royal Botania and Barlow Tyrie.
References: ( Source)
Read our Articles on Trendy Home Decor for every Budget